ASUS' Award Winning Republic of Gamers G73Jh Notebook is Even Faster Now
-- Seagate's innovative Momentus XT Hybrid hard drive powers the new ASUS ROG G73Jh-A3 notebook to new levels in performance --
Fremont, CA (May 24th, 2010) - ASUS presents Seagate Technology's new take on hard drive technology, one that combines the instant access speed of solid state drives with the great value and mass capacities of a traditional high-performance 2.5" hard drive in the award winning ROG G73Jh notebook. This unique 2.5" drive, dubbed Momentus XT, features Adaptive Memory technology, an intelligent engine that learns a user's data access and storage habits to increase system performance over time.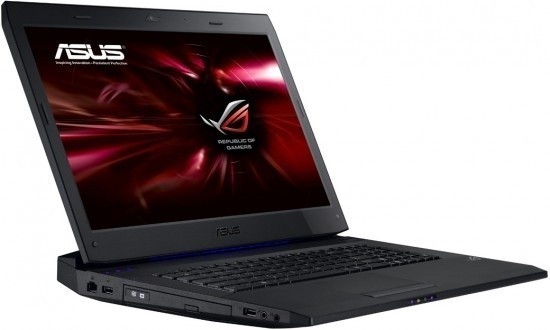 PC Wang, Vice President of the ASUS Systems Business Group, commented on the introduction of Momentus XT from Seagate: "With the Momentus XT, ASUS can provide gaming customers who prefer the ASUS ROG G73 with the capacity they need and the performance they crave. Seagate's innovative Solid State Hybrid drive hands down delivers the best value SSD-like performance to a wide audience."
Seagate Executive Vice President of Sales, Marketing and Product Line Management Dave Mosley added: "Seagate continues to invest in storage technologies that deliver more value for computer makers and end users alike. We see Momentus XT as a game changer, a product that heralds a new generation of hard drives that incorporate flash technology to help increase overall system performance."
Getting in the Fast Lane
The superb balance of performance and capacity offered by the Momentus XT led ASUS to include the drive as a performance upgrade option in its new Republic of Gamers (ROG) G73Jh notebook. Like this drive, the ROG G73Jh offers incredible performance for the money. Powered by an Intel i7 720QM quad-core processor, 8GB of DDR3 memory, DX11 capable graphics via the ATI Radeon Mobility HD 5870, and the Seagate Momentus XT hybrid drive this gaming powerhouse delivers an eye-catching design along with class leading performance.
Balancing Cost and Performance
Seagate conceived the Momentus XT as a way to bridge the value gap between solid state and traditional hard drives. Solid State drives (SSD) typically offer better overall performance than hard drives but cost significantly more thus remaining beyond the practical reach of most consumers. As a 2.5" spinning hybrid drive, Momentus XT offers improved energy efficiency and quieter operation than other performance oriented hard drives.
The Momentus XT typically works as a standard 7200 RPM drive, the embedded 4GB of NAND memory and Seagate's Adaptive Memory technology results in overall performance closer to that of 10,000 RPM hard drives along with read speeds near that of consumer Solid State drives.
The ASUS ROG G73Jh already offers incredible performance and it just became better. PCMark Vantage benchmark results* in the HDD Test suite indicate performance improvements in the Gaming test of up to 29% and up to 33% in the Productivity test over the standard 7200 RPM disk drive in the G73Jh. Microsoft's Velocity benchmark showed a 44% reduction in system boot to desktop time while game level load times in Activision's Call of Duty: Modern Warfare 2 decreased up to 43%.
Seagate's Momentus XT is truly a new look at hard drive technology, improving performance across the board compared to current hard drive designs. Regardless of the application, users will spend less time waiting for data and content to transfer, allowing for better entertainment, gaming, and productivity performance in their ASUS ROG G73Jh notebook.
* ASUS internal test results on similarly equipped G73Jh notebooks with the Momentus XT and Momentus 7200.4 500GB hard drives. Benchmark results will vary based on system usage.
The ASUS ROG G73Jh-A3 will be available shortly at www.newegg.com and www.amazon.com.
Specifications are subject to change without prior notice. Please visit usa.asus.com or for more information.
About ASUS
ASUS is a leading company in the new digital era, with a broad product portfolio that includes notebooks, netbooks, motherboards, graphics cards, displays, desktop PCs, servers, wireless solutions, mobile phones and networking devices. Driven by innovation and committed to quality, ASUS designs and manufactures products that perfectly meet the needs of today's home and office users. ASUS won 3,268 awards in 2009, and is widely credited with revolutionizing the PC industry with the Eee PC™.
With a global staff of more than 10,000 and a world-class R&D design team, the company's revenue for 2009 was US$7.5 billion. ASUS ranks among BusinessWeek's InfoTech 100, and has been on the listing for 12 consecutive years.
Last updated: Apr 7, 2020 at 12:02 pm CDT