Panasonic Upgrades Its Market Leading Toughbook CF-19 With Increased Computing Power, Rugged Standards And Connectivity
The latest CF-19 is one of the world's first devices to use the new Intel® ultra thin mobile platform utilizing the Intel® Core i5® processor
UK. 24th May 2010 - Panasonic today announced the fourth upgrade of its Toughbook CF-19, the market leading, rotating screen, convertible rugged notebook that has transformed field operation efficiency in the harshest environments. The CF-19 comes with increased computing power, tougher rugged standards and further improved connectivity in the same sized package, weighing just over 2kg with a 10.4" high visibility screen.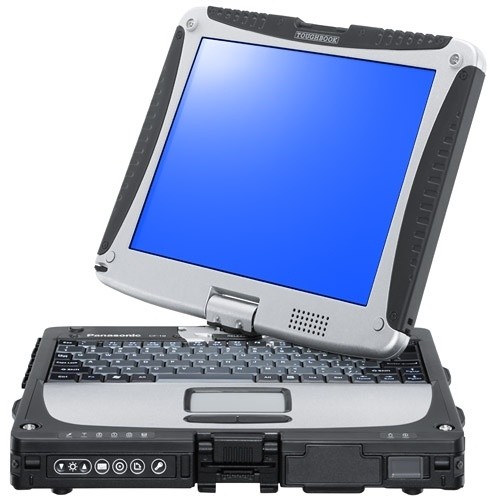 The CF-19 - the rugged device of choice for the emergency services, automotive, field utility, defence and transport maintenance operatives - offers the perfect blend between the larger form factor rugged PC's and a conventional PC.
Increased performance
The latest version delivers a 32% increase in CPU performance, as one of the first devices incorporating the new Intel® ultra low voltage Core i5®-540UM processor. The devices are designed to take advantage of Intel® Turbo Boost Technology and Intel® Multi-Threading to maximize the performance of the CPU, whilst delivering lower heat dispersion than regular PC's. The new Intel processor also features integrated high-definition (HD) graphics capabilities.
Joerg Finger, Director Sales Operation, at Intel, said: "Intel is delighted that the latest generation of the Panasonic Toughbook CF-19 is one of the first devices in the world to use our Intel ultra low voltage Core i5-540UM processor. This new Intel Core i5 processor enhances the performance while offering great battery life as well as high definition integrated graphics."
As well as increased computing power, the CF-19 also comes equipped with DDR3 RAM delivering twice the data rate transfer of its predecessor.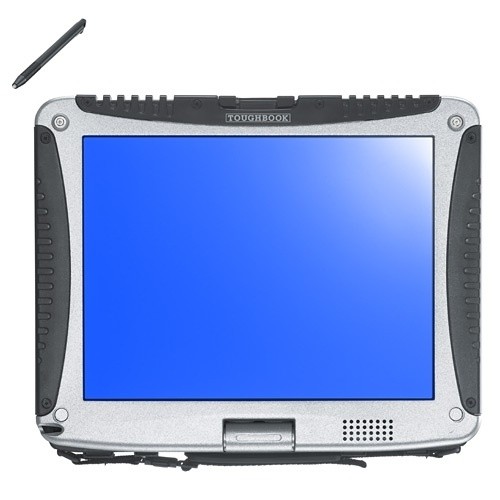 Improved mobility capabilities
The upgraded Toughbook CF-19 now includes Gobi™ 2000 mobile broadband technology from Qualcomm. Gobi 2000 simplifies multi-carrier wireless deployments for IT departments and allows a company's mobile workforce improved connectivity options while travelling at home or abroad and adds A-GPS capabilities for easy integration with mapping software.
The CF-19 has the option of an embedded WWAN and five separate screen-mounted radio antenna offering optimal radio performance over WWAN, WLAN and Bluetooth (optional WIMAX), as well as a dedicated wireless switch for convenience.
Screen visibility even in direct sunlight
The ability to see data and applications on screen in bright sunlight is essential for field workers. The CF-19 uses Panasonic's Circular Polarizing technology to deliver market leading clarity with brightness displays of 1,000 nits and a very low reflection ratio on its touchscreen, 10.4" XGA display. The CF-19 also contains a floating mounted LCD design to protect from screen shock and cracks.
Better than ever reliability and durability
With magnesium alloy casing, inside and out, and Panasonic's anti-scratch and thermally reflective coatings, the CF-19 now has added toughness. It is MIL-STD 180cm drop tested and has increased water, dust, vibration and temperature protection over the previous CF-19 model giving it an impressive IP65, MIL STD 810G rating.
With HDD damping and rugged casing systems to optimise drop protection and an HDD heater and Panasonic's foam packing system to provide flexible seals, the CF-19 can operate in even the harshest conditions.
Windows® 7 with downgrade options
The CF-19 comes with Windows® 7 Professional for both Dual Active and Touchscreen models. The Dual Active model can be downgraded to Windows® XP Tablet PC Edition 2005 SP3 and the Touchscreen model can be downgraded to Windows® XP Professional Service Pack 3.
The device delivers up to 9 hours of battery life (Mobile Mark 2007TM, Windows 7, 60cd).
Compatibility that counts
To ensure existing customers can continue to use the peripheral equipment, the CF-19 is compatible with previous generation CF-19 and CF-18 car mounts and other accessories, including screen protectors and docking stations.
Backed by outstanding service
Every Toughbook comes with a 3-year warranty covering hardware failures for systems used as designed; with a 96-hour repair commitment and a 5-year spare parts guarantee.
Availability and pricing
The CF-19 Mark 4 is available immediately and the Standard model is £2655 (excluding vat).
About Panasonic
Panasonic Corporation is a worldwide leader in the development and manufacture of electronic products for a wide range of consumer, business, and industrial needs. Based in Osaka, Japan, the company recorded consolidated net sales of 7.77 trillion yen (US$78.4 billion) for the year ended March 31, 2009. The company's shares are listed on the Tokyo, Osaka, Nagoya and New York (NYSE: PC) stock exchanges. For more information on the company and the Panasonic brand, visit the company's website at http://panasonic.net.
Last updated: Apr 7, 2020 at 12:01 pm CDT