Puget Systems Delivers High End Performance in a Small Form Factor PC
Echo III from Puget Systems combines closed loop liquid cooling, expansive hard drive capacity, and top end video cards to deliver extreme performance when space is at a premium.
SEATTLE, WA - Puget Systems (www.pugetsystems.com), a boutique integrator of custom PC systems for enthusiasts, gamers, consumers and SMB markets, today announced it has launched the
Echo III
, a form factor computer that packs extreme performance density into an ITX small form factor PC.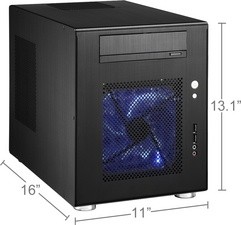 With this launch, Puget Systems' features the ability to cool with the
Puget Hydro CL1
closed loop liquid cooling system. The system allows for up to 6 hard drives, and allows the highest end video card options (NVIDIA GTX 480 or ATI 5970).
"Small form factor PCs are a special challenge to design." said Jon Bach, president of Puget Systems. "With the Echo III, we are excited to be able to take high end components from our full size desktops, and fit them together very densely into a small, quiet, well cooled package. Our rigorous testing and thermal imaging has come through yet again, allowing us to safely push the envelope of performance computing."
Compact Size
Whether you don't have a lot of desk space, or simply like to keep a clean looking entertainment system, the Puget Echo systems are a perfect solution for your needs. Small enough to be hidden away and stylish enough to place next to your gaming console or HDTV.
High Definition Video
Stay on top of the latest in video technology by customizing your Puget Echo III with a Blu-Ray disc drive. Capable of driving full 1080p HDTV's and monitors with up to 2560x1600 resolutions, you'll be able to watch all the latest movies in full HD quality.
Pricing and Availability
The Puget Echo Series is available in three models, with each specially tailored for small form factor computing. For more information, or to custom tailor an Echo system, please visit (http://www.pugetsystems.com/echo.php). Customers ordering online using the Puget Systems
Echo III configurator
will have their new systems shipped within 5-7 business days.
About Puget Systems
Puget Systems is a specialized integrator of custom personal computing systems meticulously designed to exceed the discriminating requirements of consumers, enthusiasts, gamers and businesses in multiple industries. Puget Systems combines industry-unique custom innovations, the highest quality leading-edge components with an unparalleled commitment to personal service and support. Founded in 2000, Puget Systems is headquartered in its new facility in Auburn, Washington. For more information, please visit www.pugetsystems.com
Last updated: Apr 7, 2020 at 12:01 pm CDT