Transcend Also Introduces USB 3.0 Addon Card
Transcend Information, Inc., a worldwide leader in storage and multimedia products, today introduced a USB 3.0 Expansion Card that comes with two high-speed USB 3.0 ports. This easy-to-install add-on card enables speed enthusiasts to connect USB 3.0-compatible peripherals to their desktop PC and experience data transfer rates up to ten times faster than USB 2.0 with optimized power efficiency.
For users who are not prepared to upgrade their entire computer system for the sole purpose of adding USB 3.0 functionality, Transcend's USB 3.0 Expansion Card is a perfect solution that allows them to join the SuperSpeed USB 3.0 revolution. The card's PCI Express 2.0 single lane connection interface is compatible with virtually all current motherboards, and guarantees unrestricted two-way communication between the computer and any USB devices plugged into the card.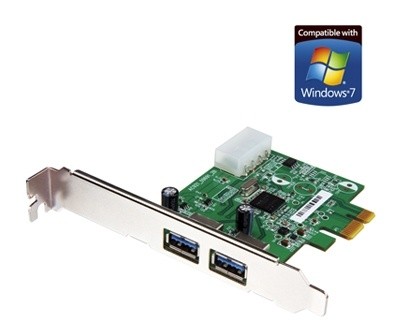 The USB 3.0 Expansion Card is equipped with two external USB ports that fully support the new USB 3.0 standard with connection bandwidth of up to 5Gb/s, which is ten times faster than USB 2.0 specifications. With Transcend's USB 3.0 Expansion Card, users can finally take the full advantage of their USB 3.0 external hard drives and USB flash drives without being limited by the insufficient bandwidth of the previous USB technologies. The USB 3.0 card is also backwards compatible with USB 2.0 and USB 1.1, so users can rest assured that their older devices will still work with the new interface.
In addition to providing a much faster transfer rates, Transcend's USB 3.0 card supplies 900mA of power per USB port, allowing about 80% more power to be available for connected devices (USB 2.0 only provides 500mA). This means that power-hungry devices will operate with increased stability, and battery-powered devices will be able to charge more quickly.
The PDU3 USB 3.0 Expansion Card is fully compatible with Windows 7, and is backed by Transcend's 2-year warranty. Offering exceptional quality at an affordable price, Transcend's compact USB 3.0 card is a value-priced solution to help users get in on the SuperSpeed USB 3.0 action.
Last updated: Apr 7, 2020 at 12:01 pm CDT