VIEWSONIC LEADS THE WAY TO SMARTER GREENER COMPUTING WITH NEW PC MINI
ViewSonic's VOT125 PC Mini provides compact, energy saving solution for business and home users
WALNUT, Calif. - May 18, 2010 - ViewSonic® Corp., a leading global provider of computing, consumer electronics and communications solutions, today announced that the
VOT125 PC Mini
- the latest compact and energy efficient computing solutions - is now available for order.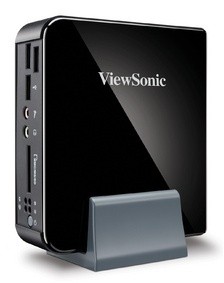 Providing an ideal compact and space-saving solution for home and business, the VOT125 provides the ultimate in smarter, greener computing. With a green-centric design, this compact and sleek PC mini uses up to 90% less plastic and consumes up to 90% less energy than traditional tower PCs. With an Intel® ULV processor and 0.6L form factor specifically designed for less power usage, less plastic and less cables, the VOT125 allows green-conscious users to reduce their carbon footprint. And with Windows® 7 installed, the VOT125 presents an ideal product for businesses looking to transition from Windows XP® or Vista®.
With a compact design and trim 1.5" x 5.1" x 4.5" specifications, the VOT125 helps create an efficient and clutter-free workspace. Whether placed on the desktop or mounted to the back of an LCD monitor with the included VESA® mount kit, this petite device is an ideal space-saving solution for an organized home or business space.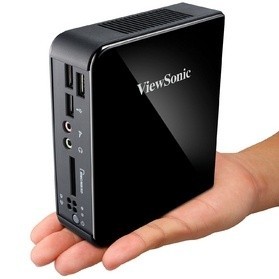 Powered by ultra low voltage, Intel® ULV processors, the VOT125 offers high performance and flexible computing in a compact package. Including 2GB internal memory, 250GB hard drive, four USB 2.0 ports, DVI/HDMI outputs and Ethernet/ wireless internet connections, this model provides powerful and adaptable computing solutions with a green conscience.
"Saving space and reducing energy spending are key priorities for our customers" said Sally Wang, senior director product marketing, ViewSonic. "We're proud to help achieve both goals with the VOT125 PC Mini, and truly deliver a smarter, greener solution for your desktop."
The VOT125 PC Mini is available with a choice of Intel® Celeron® M Processor ULV 743, Intel® Celeron® Processor SU2300, Intel® Pentium® Processor SU4100 and Intel® Core? 2 Duo Processor SU7300, and is currently available for order at an ESP starting at $499.
About ViewSonic
ViewSonic® Corporation is a leading global provider of computing, consumer electronics and communications solutions. ViewSonic develops, markets and supports a broad range of innovative products, including LCD TVs, computers, LCD monitors, projectors, digital photo frames, digital signage displays and digital media players.
Last updated: Apr 7, 2020 at 12:01 pm CDT