Patriot collaborates with SandForce® to Introduce High-Performance Inferno SSD
Inferno SSDs offer exceptional speed and TRIM support using SF-1222 SSD Processor
Taipei, Taiwan, May 14, 2010 - Patriot Memory, a global pioneer in high-performance memory, NAND flash and computer peripheral solutions, today announced the immediate availability of the Inferno series to its family of solid-state-drives (SSDs). The Inferno series of SSD offer blazing fast transfer speeds, improved system responsiveness, quicker boot times, and shorter application loading times over traditional hard disk drive storage solutions.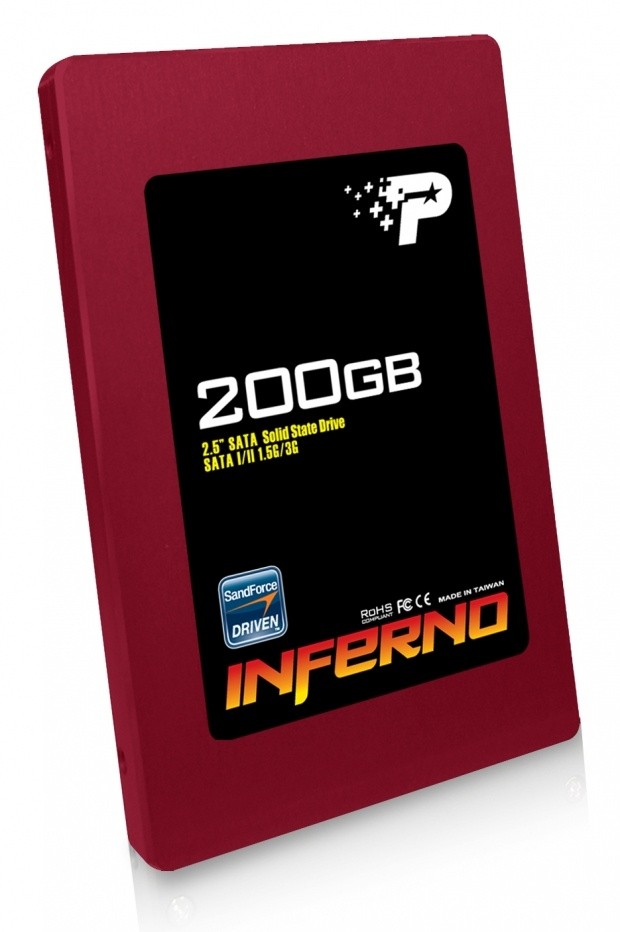 Patriot's Inferno series, available in 100GB and 200GB capacities, is designed around the highly acclaimed SF-1200 processor series. Paired with specially screened MLC NAND Flash the Inferno drives deliver class leading performance with sequential read and write speeds of 285MB/s and 275MB/s respectively. SandForce DuraClass™ technology provides enhanced endurance and reliability by an average of 20x over traditional SSD controllers through innovative write technology and Wear Leveling.
"The Inferno series of SSDs are the fastest and most exciting that Patriot has yet brought to market," states Les Henry, Vice President of Engineering at Patriot. "We have been pleased to work with SandForce to bring these enterprise level SSDs to the mainstream market at a fraction of the costs. We are very impressed with the performance numbers based on the SandForce SSD Processor. This solution fits well with our objective of offering the latest technology and best performance in our product lineup."
"Patriot is well known for delivering high-performance memory and solid state drive solutions to the enthusiast market. It was natural for SandForce to work closely with Patriot in developing a SSD solution which offers incredible performance and reliability," said Thad Omura, VP of Marketing at SandForce. "The SandForce SF-1222 SSD processor brings a level of performance sure to please the early adopters in the PC enthusiast crowd that Patriot caters to so well"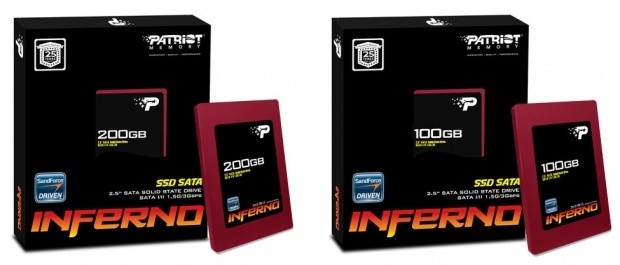 The Inferno family of SSDs are durable and reliable, with a unique aluminum housing to minimize typical wear and tear and with NAND memory at their core, there are no moving parts to fail, or be damaged from daily use in portable computing solutions. The Inferno family of SSDs provide incredible performance, reliability and a 5-year warranty. Each Inferno SSD ships with a 2.5" to 3.5" adapter simplifying installation into desktop PCs.

For more information about Patriot's products and solutions, please contact your Patriot Sales Representative or visit http://www.patriotmemory.com.
About Patriot Memory:
Patriot Memory designs, manufactures and markets high performance, enthusiast memory modules, flash products, and computing technologies. Patriot products have become world renown for their extreme performance, reliability and innovation. Patriot Memory sells its products through original equipment manufacturers, retailers, e-tailers and distributors throughout the world with operations in North America, Asia and Europe. Patriot Memory's parent company, PDP Systems, Inc., was founded in 1985 and is headquartered in Fremont, California, USA.
Last updated: Apr 7, 2020 at 12:01 pm CDT