VIEWSONIC® UNVEILS ENERGY SAVING LED MONITOR, FURTHERING COMMITMENT TO LEAD IN GREEN COMPUTING
ViewSonic's VX2250wm-LED provides powerful, energy saving solutions
WALNUT, Calif. - May 13, 2010 - ViewSonic® Corp., a leading global provider of computing, consumer electronics and communications solutions, today announced that the VX2250wm-LED - the latest 22" (21.5" Vis.) LED monitor with great energy savings- is now available for pre-order from Amazon.com, Newegg.com and PCMall.com.
The 22" (21.5" Vis.)
VX2250wm-LED
is an ideal monitor for the green conscious customer unwilling to compromise on picture quality and advanced features. With a slim, sleek design and powerful 1920x1080 resolution for crystal clear quality, the VX2250wm-LED provides a stylish and sophisticated display while simultaneously providing up to 40% energy savings over a typical 22" monitor. Ideal for those looking to lower their energy usage without lowering quality, the VX2250wm-LED allows any consumer to follow the simple message 'Go LED. Go Green!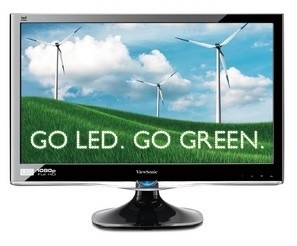 "From armchair environmentalists to Mac users all over the US, many of our customers are concerned with reducing energy costs, without compromising on their entertainment experience" said Sean Gunduz, senior product manager. "The ViewSonic VX2250wm-LED allows users to make a significant energy saving while providing unrivalled picture quality and a rich feature set, and we are proud to be leading the way in the green LED movement."
The VX2250wm-LED not only provides clear and sharp image quality with a 10,000,000:1 MEGA DCR and Full HD 1080p ViewLED™ technology, but also benefits from intelligent color corrective technology with a mercury-free WLED backlight that automatically detects image signal and intelligently controls backlight brightness for blacker blacks, purer whites and more clearly defined grays.
The VX2250wm-LED is designed to create a high-quality complete multimedia experience. With integrated stereo speakers, DVI and VGA inputs, this complete system provides the perfect combination of precise images and powerful sound capability. Complete with a flexible VESA® Mountable slim design, the VX2250wm-LED provides a customizable green-friendly home or office display solution.
The energy saving VX2250wm-LED is currently available for pre-order through Amazon.com, Newegg.com and PCMall.com for an ESP of $199, with commercial availability on May 26th.
For further information on ViewSonic products, please visit ViewSonic.com or follow ViewSonic on Facebook, YouTube and Twitter.
About ViewSonic
ViewSonic® Corporation is a leading global provider of computing, consumer electronics and communications solutions. ViewSonic develops, markets and supports a broad range of innovative products, including LCD TVs, computers, LCD monitors, projectors, digital photo frames, digital signage displays and digital media players. For further information, please contact ViewSonic Corporation or visit ViewSonic.com.
Last updated: Apr 7, 2020 at 12:01 pm CDT