Panasonic Launches The Toughbook CF-U1 "Mobile Personal Identifier Solution" Ideal For Border Control, Policing And Security Forces
Person Identification Mini Dock includes OCR and RFID Reader plus fingerprint scanner
UK. 12th May 2010 - Panasonic today launched its revolutionary 3-in-1 identity checking solution designed for mobile border control, policing and security forces. The Person Identification Mini Dock (PIMD) includes an OCR and RFID Reader as well as Fingerprint Scanner and connects to the Toughbook CF-U1 ultra mobile PC device. A lighter 2-in-1 version without the fingerprint scanner is also available.
Compact, rugged and lightweight, the PIMD is ideal for mobile workers, such as border control personal, who need to check identities whilst on the move. It is equipped with the best components from the leading manufacturers in mobile identification, including DESKO™, Dermalog™ and HID Global™. The PIMD is a co-development from Panasonic and DESKO in a rugged case with MIL-STD and IP certification. It also delivers the highest security standards with separate power management and a standby mode.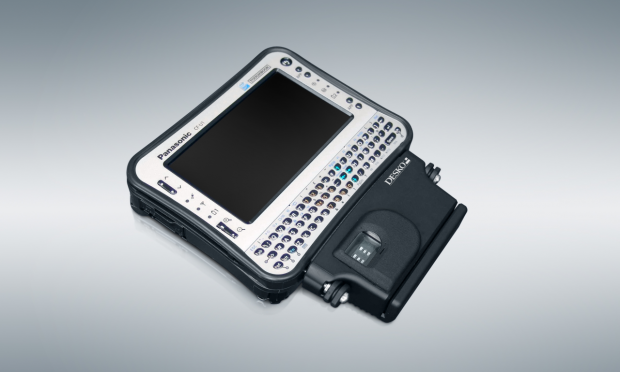 DESKO-designed OCR Reader for Passports and ID cards
The DESKO-designed OCR ID document reader checks 2 and 3 line passports and ID documents to ICAO 9303 standard. It uses OCR swipe technology with a small and compact micro OCR camera for mobile passport reading at a speed of 72-90 characters per half second. Reading errors are low as a result of DESKO's proven algorithm reading support software. The device is easy to use with a high optical picture quality of 400dpi.
HID Global RFID Module
The integrated HID Global RFID module with its user-friendly, document holding clip and standard PC-SC interface to support biometric reading is ideal for reading biometric passports or ID cards and other RF documents (i.e. Mifare type a/b). It is one of the fastest RFID modules on the market, with transfer rates up to 848kbps, and is designed for outside use with its RF Board coated to provide a high level of water protection. The module supports Basic and Extended Access Control and complies with ICAO 9303, ISO 14443 and ISO 15693 standards. The RF board follows BSI standards for biometric passport reading.
Market-leading Fingerprint Reader
The Dermalog high quality optical fingerprint reader has the ability to identify fingerprints from the living and dead, as well as fake plastic fingerprints. Unlike many devices, the module is able to capture accurate readings when fingerprints are rolled onto the reader from right to left or left to right. Images are easy to view on a 24x16mm display at a resolution of 500dpi. The module creates a small image memory size for easy processing, with a raw image size of 150kb and a compressed file at just 18kb. The module is BSI and FIPS certified.
CF-U1 ultra mobile PC device
Combined with the CF-U1, data from the PIMD can be immediately processed by the device operating system or via an optional WWAN, which can synchronise live with data held on a central server. A full-function operating system (Windows® XP or Windows Vista®) makes the CF-U1 the perfect fit as all captured ID-Information can be directly processed on an office-like platform by the fully ruggedized Toughbook CF-U1 which maximizes functionality and connectivity in a compact size with extreme durability. Data can be input through either the keyboard, or with a pen or finger on the 5.6-inch touchscreen which is viewable even in direct sunlight. With the WSVGA resolution (1024 x 600), 2GB of memory, a 64GB solid-state hard drive and an energy efficient 1.6 GHz Intel® Atom CPU, the CF-U1 provides optimal battery-performance balance. While the standard WLAN and Bluetooth deliver the latest wireless technologies, the optional integrated HSDPA, GPS and other application-specific modules make the CF-U1 together with the PMID the perfect "Mobile Personal Identifier Solution" even in the most demanding working conditions.
Backed by outstanding service
Every PIMD comes with a 2-year warranty covering hardware failures for systems used as designed; with a 96-hour total turnaround time commitment and a 5-year spare parts guarantee.
Availability and pricing
The PIMD is available in September 2010 and prices start at €1056 (excluding tax) for the 2-in-1 PIMD (without CF-U1) and €1513 (excluding tax) for the 3-in-1 PIMD (without CF-U1).
Full data specifications sheets available at: www.toughbook.eu
About Panasonic
Panasonic Corporation is a worldwide leader in the development and manufacture of electronic products for a wide range of consumer, business, and industrial needs. Based in Osaka, Japan, the company recorded consolidated net sales of 7.77 trillion yen (US$78.4 billion) for the year ended March 31, 2009. The company's shares are listed on the Tokyo, Osaka, Nagoya and New York (NYSE: PC) stock exchanges. For more information on the company and the Panasonic brand, visit the company's website at http://panasonic.net.
Last updated: Apr 7, 2020 at 12:01 pm CDT