Atlona Technologies Revolutionizes the High Definition World with new HDMI1.4 Cables
Atlona Technologies, leading solutions based manufacturer of Audio Video accessories, Revolutionizes the AV Industry with HDMI1.4 Cables
Atlona Technologies gained a substantial market share in the custom installation market in 2006 with the release of their HDMI 1.3b Flat cable, designed to maximize distance and eliminate conductor cross talk. Today, Atlona announces the release of their first ever HDMI 1.4 cables, implementing the "flat" cable design.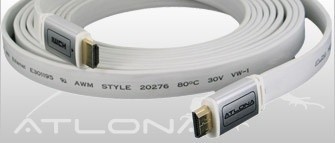 New content is being produced daily that will utilize recent advances in AV technology including embedded rich content from the web, and 3D video. With HDMI 1.4, this content is now available for home viewing in home theaters around the world. 3D video in particular is making its way to home viewers by summer of 2010, however; this content requires HDMI 1.4. HDMI's latest specification supports several 3D formats including Frame Alternative, Line Alternative, Field Alternative, and several other popular formats. 3D formats are driving film makers to create tons of new content, including movies, games, and more. Panasonic and DirecTV have teamed up to create multiple 3D channels available to 3D Display owners, while Discovery Channel recently announced its plans with IMAX and Sony to offer a 3D channel of their own. These content providers are driving the 3D home revolution, while companies like Atlona are making the cables users will need to get that content on their screens.
Atlona Technologies, a leading audio video connectivity solutions manufacturer, has always been poised on the cutting edge of advances in the AV industry. This new line of cables is designed to surpass the specification requirements of HDMI 1.4, as with previous versions of the Flat HDMI cable line. "We rejected the notion of good, better, best early on, thinking everyone deserves the 'best' quality, but pay the 'good' price" Say Christopher Bundy, Director of Marketing with Atlona Technologies.
Atlona cables feature a flat design that allows the cable to conform to flat surfaces such as a floor or wall, however; the reason for them being flat is better performance. "In a round cable, you have a bunch of conductors smashed around a drain (ground), but the shielding between conductors typically not enough to prevent distortion, especially at long distance" say Michael Khain, Head of Product Development with Atlona. Atlona new Flat HDMI 1.4 cables are not only designed sleek and smart, but also with a hint of green thanks to Atlona's continuing devotion to Restrict Hazardous Material such as Lead and other materials from their production. The cables not only bare the ROhS certification, but are UL certified for in wall use (CL3).
Atlona's New HDMI 1.4 cables are currently shipping in lengths ranging from 3 to 50 feet starting at $39.99.
Atlona Technologies is a registered trademark of Lenexpo Inc. in the United States and/or other countries. The names of actual companies and products mentioned herein may be the trademarks of their respective owners.
Last updated: Apr 7, 2020 at 12:01 pm CDT