NewerTech Announces StoraDrive Stackable Anti-Static Case For Storing/Protecting/Organizing Any 3.5" Bare Hard Drive
$9.95 MSRP interlocking two-pack case solution joins unique hard drive accessory line from NewerTech to safely store archived drives and provide quick access to the drives when needed
May 10, 2010, Woodstock, IL -- Newer Technology, Inc. (NewerTech(r)) http://www.newertech.com, a leading developer of Macintosh(r), PC, iPod(r), iPhone(r), and iPad(tm) performance upgrades and accessories, announced today it expanded its hard drive accessory line with the introduction of the new $9.95 MSRP StoraDrive stackable anti-static case solution for storing, protecting, and organizing any bare 3.5" hard drive.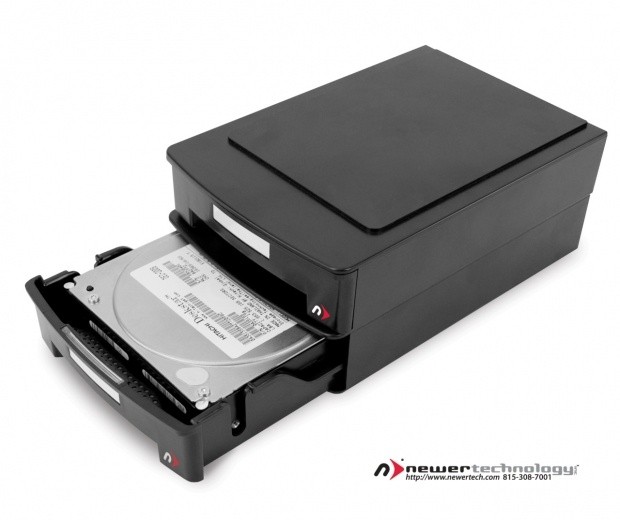 Key StoraDrive Features:
* Economical, yet highly functional hard drive storage and access. The StoraDrive two pack retail price is similar to more basic, single unit competing options on the market.
* Smooth, sliding drive storage drawer for easy access without disrupting other cases.
* Each drive drawer includes a convenient label area for easy content identification.
* Stackable, interlocking design enables more StoraDrive cases to be added as storage needs grow.
* Anti-static injection molded ABS plastic provides safe, durable drive storage.
* Non-skid rubber feet keeps case and drives securely positioned.
The NewerTech StoraDrive stackable anti-static case solution is available immediately for $9.95 MSRP from NewerTech's exclusive distributor, Other World Computing (OWC(r)), as well as through the retail channel. For more information, as well as reseller inquiries, visit: http://www.newertech.com/products/storadrive.php
Ideal For Users That Hot Swap & Archive Hard Drives
With today's low cost of hard drive storage and Plug and Play hot swap drive access products like NewerTech's $34.99 MSRP USB Universal Drive Adapter http://www.newertech.com/products/usb2_adaptv2.php or the Voyager hard drive dock http://www.newertech.com/products/hdddocks.php from $39.99, a greater number of computer users are incorporating the ease and convenience of accessing multiple drives into their workflow. Now with StoraDrive, photographers, videographers, and other multiple drive users and storage archivers have a safe, convenient, and organized way to store drives when not in use. For more information on NewerTech's complete hard drive accessory line, visit: http://www.newertech.com/products/hddacc.php
"StoraDrive continues our mission of creating unique, consumer friendly technology accessories," said Grant Dahlke, Brand Manager, NewerTech. "Anyone that has accumulated bare drives and wants to safely store them will find StoraDrive to be a easy and convenient solution."
About Newer Technology, Inc.
Since 1984, Newer Technology, Inc. (NewerTech) has been recognized as the leading developer of performance upgrades and accessories for Macintosh and PC computers, iPods, iPhones, and iPads. NewerTech is headquartered in Woodstock, Illinois. Dealer inquiries are welcome by calling 815-308-7001 or by emailing sales@newertech.com.
Last updated: Apr 7, 2020 at 12:01 pm CDT