AVADirect Starts Selling Multi-Graphics Image Generator For Visual Simulation
Twinsburg, OH - May 4th
AVADirect, a leading custom computer manufacturer, announces its newly added Intel Nehalem Westmere Dual XEON CPU product tailored for the Computer Generated Imagery (CGI) Industry. This cutting edge product is compatible with 5500 and 5600 series Intel Xeon processors and supports two sockets totaling twelve (12) cores of computing performance. With the use of a new "configurator" you can fully customize the options available, including the integration of up to eight graphics cards to offload graphical computations. It also supports up to 144GBs of high-speed DDR3 memory and comes with a standard 2400W redundant power supply.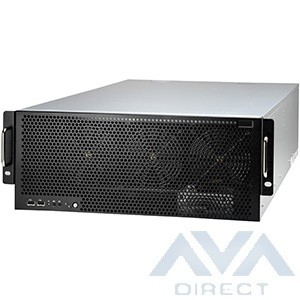 When compared to a "traditional" bulky cascade of separately racked PCs, this CGI alternative offers substantial hardware cost savings, lower power consumption, less maintenance and tremendous space savings.
Misha Troshin, CMO of AVADirect, believes this technology will create a breakthrough for the virtual visualization simulator market place in particular. "Image Generators (IG) have had a consistent reliability issue and limitation of space. Many software developers find it frustrating when shopping for hardware that will not effectively make use of runtime operations to its fullest extent. Developers are always coming up with workarounds to meet the shortfalls of the hardware. With this new approach, the CPU power is totally configurable and memory capacity is at a new level necessary for this demanding market. What's most amazing is this very capability to host up to 8 separate graphics channels in a single enclosure which doesn't exist in COTS solution anywhere else on the market at this time. Our "configurator" hands you an easel to tailor core usage and releases the developer's confines to totally optimize both hardware and software. If you're looking for a solution that pushes the envelope beyond any competitor in this market look no further. I truly feel that this solution for an IG product will breed promising results in the near future." says Troshin
Important to AVADirect is the level of customization the company provides. Component types such as enclosure, motherboard, CPU can all be changed on most systems they offer. Changes between brands of hard drives, memory, video cards, and etc is also possible using the web-site's revolutionary system configuration pages. This level of customization is what sets AVADirect apart from any other system integrator.
About AVADirect
AVADirect, Inc. is a custom computer manufacturing company located on the outskirts of Cleveland, Ohio. The company specializes in building all kinds of custom computer systems including: Windows or Linux manageable and highly-reliable servers, high-end workstations and gaming systems, business PCs, and notebooks. For more information, visit www.avadirect.com
Last updated: Apr 7, 2020 at 12:01 pm CDT