A-DATA Releases Fashionably-designed 2.5'' Portable HDDs
A-DATA Technology Co., Ltd., the worldwide leader in DRAM memory and Flash application products, today released a new 2.5" portable hard drive SH02. Stylishly crafted in 3-dimensional chic imprint patterns with special surface finishing, SH02 is an in-style digital accessory for the fashionistas.
"We search for any possibility of applying new technology and combine with the latest design elements and details to come up with innovative storage products that differentiate ours from other competitors," said C.K. Hung, Vice President of A-DATA Technology Product Planning Group. "SH02 is a perfect example of combining new surface finishing technology with a designer look, creating a practical yet trendy portable HDD to the market."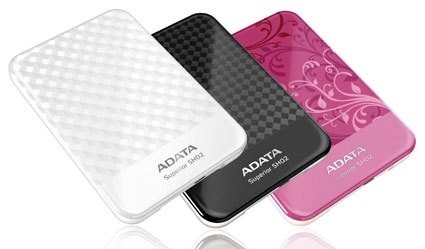 Using the advanced IMF (In-Mold Foil) technology, SH02 beautifully presents itself with sensory appeals that can be vividly felt not only visually, but also through the touch of fingertips. The same surface finishing makes SH02 resist to scratches, abrasion and annoying fingerprints as well, keeping the look nice and new all the time as if it is bought for the first day.
SH02 is available in white, black and pink, each with its own unique design that glitters with sophistication. With capacity up to 500GB, one could easily access all his/her favorite tunes, movies, applications via High-speed USB 2.0 interface anywhere, anytime in style. SH02 is incredibly compact and lightweight that would easily fit in a handbag or a back pocket.
Users of A-DATA portable HDDs are able to download value-add software HDDtoGO, OStoGO (no registration required), Norton Internet Security 2010 (60-day trial) for free and experience enhanced mobility and security with just few mouse clicks away. All A-DATA portable HDDs are backed by 3-year product warranty.
Last updated: Apr 7, 2020 at 12:01 pm CDT