WD TV(TM) Live HD Media Player is the First Network Media Player Compatible With Windows 7
Consumers Can Use 'Play To' Feature to Stream Music, Videos and Picture Files Stored on Their PCs and Home Network to Their Big Screen TVs
LAKE FOREST, Calif., May 6 /PRNewswire-FirstCall/ -- WD® (NYSE:WDC - News), the world's leader in external storage solutions, today announced that the
WD TV Live HD media player
, featuring network capability and Full-HD 1080p resolution, is the first network media player compatible with Windows 7. The WD TV Live HD media player makes it easy for anyone to play media stored on USB and network drives, any PC on the home network, as well as content from popular websites, on the biggest screen in their home -- their big screen television.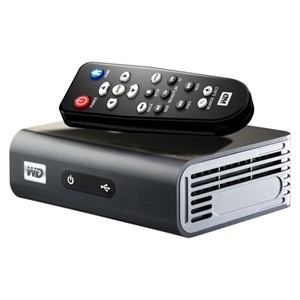 Using the Windows 7 Play To feature, users can initiate and control the streaming of video, music or photos to the WD TV Live HD media player and home entertainment systems from any Windows 7-based PC on their network. Any compatible media file accessible from the PC - located either on the PC or the network - can be played to the WD TV Live by right clicking on the file name in the folder or directly from within Windows Media Player 12 and choosing the WD TV Live HD media player as the playback device.
Current users of the WD TV Live will need to update their WD TV Live HD media player to the latest firmware in order to use the Windows 7 Play To feature. Instructions for updating the WD TV Live HD media player can be found here:
http://www.wdc.com/wdproducts/updates/?family=wdfwdtv_live
"Microsoft is pleased that Western Digital has earned the Compatible with Windows 7 logo and is supporting the Play To feature with WD TV Live HD media player," said Mark Relph, senior director, Windows Ecosystem Product Management at Microsoft Corp. "Now more than 100 million Windows 7 customers will have an affordable and easy way to play files to their HD TVs and other devices from their PC."
"We regularly engage with WD TV Live enthusiasts in our online community. Many have been asking for a way to "push" media from their PCs to their TV or home theater system, especially from laptops. With the new Windows 7 Play To feature, users can select music or movies from their laptop and play it on an HD TV connected to a WD TV Live HD media player, whether the HD TV is across the living room or in a different room altogether," said Dale Pistilli, vice president of marketing for WD's branded products group. "WD worked closely with Microsoft on this exciting new feature to ensure the seamless compatibility of the WD TV Live HD media player with Windows 7 PCs and deliver WD TV Live users what they want."
WD TV Live HD Media Player
Features of the Windows 7-compatible WD TV Live HD media player include:
- Full-HD 1080p video playback and navigation with the included remote control and crisp, animated navigation menus;
- Play a wide variety of file formats including support for the most popular file formats with no need to spend time transcoding;
- Play videos, music and photos from the Internet on your big screen TV and discover new music with Pandora® Internet radio or listen to thousands of radio stations via Live365 Internet radio;
- Ethernet port for wired or WiFi® connection(1) to access files anywhere on the network to play movies, music, and photos from any PC or drive on a home network;
- Turns a USB drive(2) into an HD media player and plays content from most popular USB drives, and digital cameras, camcorders, and portable media players that can be recognized as mass storage devices;
- Unlimited media collection, just add more USB drives for more space;
- Two USB ports for seamless media playback from multiple USB drives and ability to access them simultaneously while a media library feature collects the content on all the drives into one list sorted by media type;
- Transfer files by copying, moving or deleting files stored on a USB drive, a network drive, a camcorder, or a camera to the attached USB drive using the on-screen menus;
- Picture Transfer Protocol support to show photos and movies directly from digital camera or video camera and/or any digital imaging device that supports Picture Transfer Protocol;
- Advanced navigation options including thumbnail and list views, media library and search;
- Photo viewing to create custom slide shows, zoom and pan and search;
- Movie viewing with fast-forward, rewind, pause, zoom and pan, view subtitles, and search;
- Music playback with fast-forward, rewind, pause, shuffle, repeat and search;
- File copying between USB devices;
- HDMI® 1.3 port, composite video and component video output(3) for the highest quality HDTV or home theater;
- SPDIF digital output that sends digital signals to your AV receiver for the best surround sound experience; and,
- Ultra-compact design to fit easily into a home entertainment center.
Pricing and Availability
The WD TV Live HD media player is available now at select retailers and online at shopwd.com. Covered by a 1-year limited warranty, the MSRP for WD TV Live HD media player is $149.99 USD.
About WD
WD, one of the storage industry's pioneers and long-time leaders, provides products and services for people and organizations that collect, manage and use digital information. The company produces reliable, high-performance hard drives that keep users' data accessible and secure from loss. WD applies its storage expertise to consumer products for external, portable and shared storage applications.
WD was founded in 1970. The company's storage products are marketed to leading systems manufacturers, selected resellers and retailers under the Western Digital® and WD brand names. Visit the Investor section of the company's Web site (http://www.westerndigital.com/) to access a variety of financial and investor information.
Last updated: Apr 7, 2020 at 12:01 pm CDT