SuperTalent USB 3.0 flash drives offer outstanding USB 2.0 Performance
>Tomorrow's Technology Provides Measurable Benefits Today
San Jose, California - May 6, 2010 - Super Talent Technology, a leading manufacturer of Flash storage solutions and DRAM memory modules, today announced a new discovery; our latest flash drives, designed for USB 3.0, also offer measurable performance improvements as USB 2.0 drives.
The majority of performance USB 2.0 flash drives utilize dual-channel architectures. Our USB 3.0 flash drives are based on quad-channel designs and beyond. This architectural difference enables SuperTalent USB 3.0 drives to achieve a measurable performance increase even on the USB 2.0 bus.
"The multi-channel architectures we've integrated into our USB 3.0 drives enables enhanced performance even when utilized with a USB 2.0 port. Customers looking for performance flash drives now have a 'future proof' alternative. SuperTalent USB 3.0 flash drives not only provide the fastest USB 3.0 flash scores but also the best performance we have seen from the USB 2.0 port as well. It's a win/win for our customers" said Super Talent COO, C.H. Lee.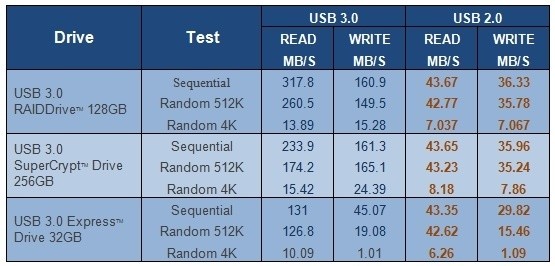 The company's USB 3.0 RAIDDriveTM, ExpressTM and SuperCryptTM drives use SuperTalent patented technology and are protected under US Patent # 7457897.
About Super Talent Technology
Super Talent Technology Corporation, based in San Jose, California, designs and manufactures a full range of DDR, DDR2, and DDR3 memory modules and Flash based SSD and USB storage devices for computers and consumer electronics. An ISO 9001 certified company, Super Talent utilizes its state-of-the-art factories and leading-edge components to produce award winning products with outstanding reliability. Super Talent is an active member of the JEDEC and ONFI standards bodies. With over 250 patents, the company was ranked in the top 50 of the Wall Street Journal's Patent ScorecardTM for the IT industry three consecutive times.
Last updated: Apr 7, 2020 at 12:01 pm CDT