OCZ Technology Group Announces the PC Power & Cooling Silencer Mk II Power Supply
PC Power & Cooling Refreshes Acclaimed Industrial-Grade Silencer Series Designed for Industrial OEMs and Enthusiasts
SAN JOSE, CA-May 4, 2010-OCZ Technology Group, Inc. (Nasdaq:OCZ), a worldwide leading provider of high-performance solid-state drives (SSDs), memory modules, and power supplies for computing devices and systems, has unveiled the Silencer Mk II Power Supply Unit (PSU), the latest PC Power & Cooling solution.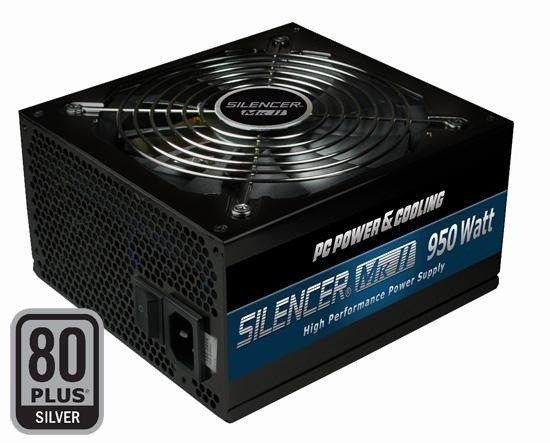 "I am thrilled see the new Silencer Mk II brought to market and provide the premier power management solution to power users of all kinds, from enthusiasts to industrial OEMs," commented Ryan Edwards, Director of Product Management at OCZ Technology. "The Mk II is a perfect blend of proven, long-term technology and the newest cutting-edge design. With 25 years of high-performance power supply experience, PC Power & Cooling has always been at the forefront of the computing industry, and the Silencer Mk II represents an exciting new chapter in a long history of providing uncompromising quality and lasting value to its customers."
The Silencer has been a trusted PSU series on the market for more than twenty years and is built for best-in-class stability and reliability. Redesigned to provide a smaller form factor, quieter fan, and higher 80-Plus® certified efficiencies, the new Silencer Mk II Series offers a highly robust power supply to accompany a top-of-the-line professional, enthusiast, or gaming system.
The new Silencer Mk II strikes the right balance between standard, server-class topology and state-of-the-art PSU architecture. Designed with enthusiasts and power-users in mind, key features of the Mk II include a Single +12V Rail for maximum and efficient power distribution, a thermally controlled 135mm double-ball bearing fan for airflow at near-silent audible noise levels, extremely tight and well regulated electrical noise and ripple, and an ideal array of connector types for each wattage. Offering excellent energy and cost savings, the Mk II features ultra-high efficiency with 80+ Silver (650W, 750W, 950W) and 80+ Bronze (500W) certifications, converting up to a full 88% of AC to DC power at typical loads.
The PC Power & Cooling Silencer Mk II is the optimal power solution for multiple power-hungry drives and video cards, featuring a temperature rating of 50 degrees Celsius, twice that of the industry standard. The Silencer Mk II Series is fully compliant with the latest ATX12V and EPS12V specifications and will be available in 500W, 650W, 750W, and 950W configurations. As a future-proof investment for any high-end system, the Mk II is built to last and comes backed by a 7-Year Warranty.
For more information on the Silencer Mk II, please visit our product pages
here
.
About OCZ Technology Group, Inc.
Founded in 2002, San Jose, CA-based OCZ Technology Group, Inc. ("OCZ"), is a leader in the design, manufacturing, and distribution of high performance and reliable Solid State Drives (SSDs) and premium computer components. OCZ has built on its expertise in high-speed memory to become a leader in the SSD market, a technology that competes with traditional rotating magnetic hard disk drives (HDDs). SSDs are faster, more reliable, generate less heat and use significantly less power than the HDDs used in the majority of computers today. In addition to SSD technology, OCZ also offers high performance components for computing devices and systems, including enterprise-class power management products as well leading-edge computer gaming solutions. For more information, please visit: www.ocztechnology.com.
Last updated: Apr 7, 2020 at 12:01 pm CDT