Patriot Launches Shattered Horizon™ Bundles
Patriot and Futuremark® Games Studio team together to create Shattered Horizon bundles with select Patriot products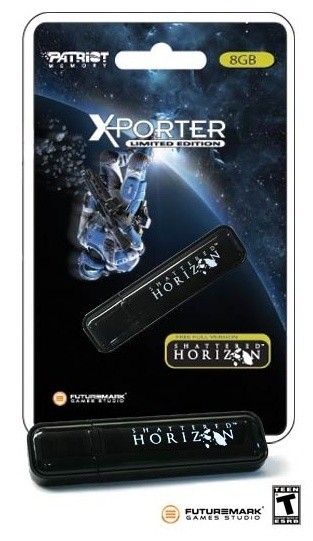 Fremont, California, USA, April 27, 2010 - Patriot Memory, a global pioneer in high-performance memory, NAND flash and computer technology, as a part of their year long 25 year anniversary celebration, today announced an exclusive software licensing and bundling agreement with Futuremark®, granting rights to manufacture and market products bundled with the multiplayer first-person shooter, Shattered Horizon™.
Patriot is now offering select capacities of the popular Xporter USB Flash Drive products bundled with the zero gravity first-person shooter, Shattered Horizon. The Shattered Horizon bundle will include a Steam download code enabling users to easily download and install the game and then jump into the action. The first Shattered Horizon bundles will be 8GB and 16GB USB Flash Drives easily recognized by their unique packaging featuring design elements from the Shattered Horizon game. Additional Patriot products will be bundled with Shattered Horizon and introduced at a later time.
Shattered Horizon is an innovative first-person shooter set in zero gravity and offers action-packed gaming for up to 32 players at a time. Set in near-Earth space 40 years from now, players fight it out in zero gravity to control hollowed-out asteroids, huge fragments of Moon rock and the ruined remains of the International Space Station.
"We are pleased to once again partner with an industry leader like Futuremark®, to bundle their innovative first-person shooter PC game, Shattered Horizon, with select Patriot products" says Eric Ackerson, Patriot's Director of Marketing. "Our goal at Patriot is to enhance our product offering by including content that enriches the end user experience. Patriot and Futuremark® have been collaborating to this end with Futuremark® 3DMark Vantage bundles and this latest bundle extends that partnership."
"Futuremark® Games Studio is excited to offer Shattered Horizon with selected Patriot USB flash drive products, a bundle that offers excellent value for gamers," says Jukka Makinen, CEO of Futuremark. "Patriot has been a good partner for Futuremark for many years and we are happy to extend this relationship to include our game studio. We look forward to creating more product bundles and joint promotions with Patriot in the future."

For more information about Patriot's Shattered Horizon bundle products and other memory module and flash memory solutions, please contact your Patriot Sales Representative or visit http://www.patriotmemory.com.
About Patriot Memory:
Patriot Memory designs, manufactures and markets high performance, enthusiast memory modules, flash products, and computing technologies. Patriot products have become world renown for their extreme performance, reliability and innovation. Patriot Memory sells its products through original equipment manufacturers, retailers, e-tailers and distributors. It has operations in North America, Asia and Europe. Patriot Memory's parent company, PDP Systems, Inc., was founded in 1985 and is headquartered in Fremont, California, USA.
Last updated: Apr 7, 2020 at 12:01 pm CDT