LaCie Announces Its Fastest Mobile Hard Drive: LaCie Rugged USB 3.0
LaCie announced the latest addition to its Rugged family of mobile hard drives - the LaCie Rugged USB 3.0, combining the super speeds of USB 3.0 and LaCie's award-winning rugged design. The LaCie Rugged USB 3.0 is one the most power-efficient and fast-performing mobile hard drives offered by LaCie.
The LaCie Rugged USB 3.0 provides speeds up to 110 MB/s - three times the speed of USB 2.0. The speed enhancement allows you to transfer one HD movie in less than 3 minutes (versus more than 8 minutes in USB 2.0). It offers improved power efficiency, so you only need one cable to be assured optimal performance.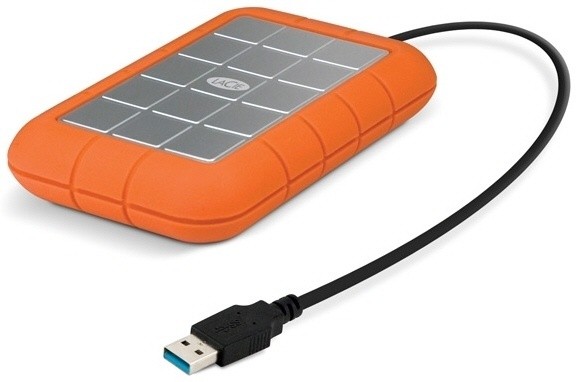 "We are pleased to add USB 3.0, the fastest interface available, to our most recognized mobile solution," Anne-Sophie Marchand, Consumer Product Manager. "Now the most demanding customers can get the best performance out of a 2.5" hard drive - making the Rugged USB 3.0 the only hard drive necessary for work in the field."
If you do not have a USB 3.0 connection on your PC or notebook, you can easily add it with a LaCie USB 3.0 PCIe card or USB 3.0 PCIe Express card. LaCie also offers bundled options with the Rugged USB 3.0 - you choose the card.
The LaCie Rugged USB 3.0 is backward compatible with USB 2.0. This means it will work with any computer or notebook that has a USB connection - offering instant usability no matter what version of USB.
Housed in the award-winning Rugged casing designed by Neil Poulton, the LaCie Rugged USB 3.0 features a unique scratch-resistant aluminum shell, internal anti-shock absorbers, and a shock-resistant rubber bumper to better protect files against everyday blunders.
For advanced users, the LaCie Rugged USB 3.0 is the only storage solution you need for transferring large digital files on the go, with super fast speeds.
Availability
The LaCie Rugged USB 3.0 will be available in 500GB capacity through the LaCie Online Store, LaCie Corner, LaCie Reseller+ and LaCie Storage Partner starting at the suggested retail price of $149.99 (VAT included).
Product Highlights
• Fastest interface on the market, with speeds up to 110 MB/s
• Rugged design: drop-resistant up to 2.2 meters
• Complete software bundle for easy formatting and backup
• 10GB Wuala online storage included for one year
Last updated: Apr 7, 2020 at 12:01 pm CDT