Konnet Technology's New PowerV Quad Wirelessly Charges Four Nintendo Wii Remotes
Modern Charging Station Employs Induction Technology to Charge Wiimotes with Ease and Elegance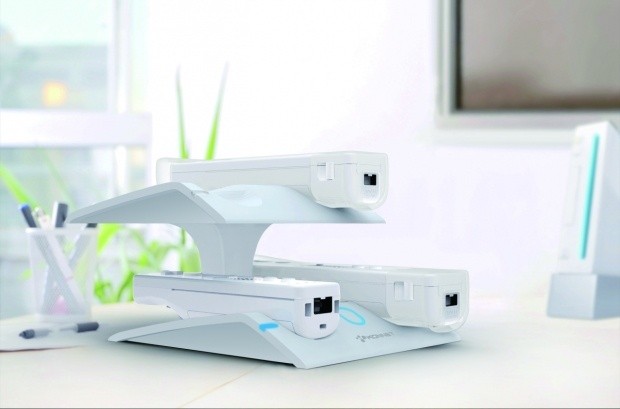 TORONTO, Canada - April 27, 2010 - Konnet Technology, leading manufacturer of mobile entertainment and gaming accessories, has unleashed their PowerV Quad, an advanced wireless induction charging and storage solution. Made with practicality and top design in mind, the PowerV Quad uses induction technology to simultaneously charge 4 Nintendo Wiimotes, minimizes cable clutter, and looks sleek enough to be mistaken for a piece of modern art.
The PowerV Quad features advanced wireless induction, which allows for a hassle-free charging process. Simply rest the Wiimote on the PowerV (with or without removing Motion Plus and silicone casing) and it will charge instantly via the supplied Konnet rechargeable battery packs. Once the remote is placed, the Quad will recognize its battery strength and reflect charging status through a red or blue LED light: red LED means the controllers are charging, blue LED means the controllers are fully charged.
If that's not intelligent enough, the PowerV Quad will stop charging once the Wiimote is fully juiced or will recognize if an alkaline battery is being used, making it impossible to waste excess power on overcharging. Along the same lines, its "Off/On" button enables it to be more energy efficient.
"The PowerV Quad lets you enjoy your Wii without the threat of losing remote power or having a cluttered living room," says Christine Custodio, VP of Marketing for Konnet. "It's an effortless solution for today's hip gamer."
Priced affordably at $49.99 ($54.99 CAN), the PowerV Quad includes an AC/DC Adaptor cord and 4 rechargeable Ni-MH 800mAh battery packs. Additional battery packs are available on Amazon.com for $19.99 ($24.99 CAN). For more information or to purchase, please visit www.amazon.com.
About KONNET Technology:
KONNET vision is to stimulate the true quality and performance of A/V products to customers worldwide in the new generation of digital entertainment through different forms of innovations. Inspiring quality through innovation, KONNET specializes in the manufacturing of mobile entertainment and gaming accessories. For additional details, visit KONNET's website, www.konnetonline.com.
Last updated: Apr 7, 2020 at 12:01 pm CDT