Samsung Unveils the Fastest STORY External Hard Drive with USB 3.0 Interface
Samsung Electronics, a world leader in digital consumer electronics and information technology, today announced the fastest external hard drive yet in its STORY Station product portfolio - the Samsung STORY Station 3.0 with the SuperSpeed USB 3.0 interface. The top-of-line 3.5-inch external hard drive now offers 10 times faster speed compared to the previous USB 2.0 interface, making it the ideal storage solution for saving and retrieving crucial data in the blink of an eye.
"The Samsung STORY Station 3.0 has been built for advanced users who demand fast transfer speed and data security without sacrificing design," said H.S. Lee, vice president, storage marketing, Samsung Electronics. "The STORY Station creates a seamless user experience that allows users to move large chunks of high-quality multimedia content with minimal wait time."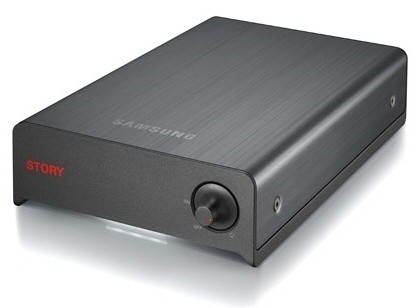 The SuperSpeed USB 3.0 interface offers a maximum transfer rate of 5 gigabits per second (Gbps) compared to 480 megabits per second (Mbps) in USB 2.0. Users can now transfer 4 MB of music (equivalent of a 3-minute song) or image files (6megapixel camera in hi-resolution photos) in approximately 0.02 seconds and an HD movie in 2.3 minutes. The new interface is backward-compatible with USB 2.0 and 1.1 interfaces.
In keeping with Samsung's world-class design tradition, the STORY Station line-up is the winner of an iF award 2009 in product design category. The minimalist design was inspired by retro electronics and combines a grey, brushed aluminum casing with the logo stenciled in red. The casing materials are RoHS-compliant, and the ventilation slits facilitate even heat dissipation to ensure reliable performance.
Designed with the environment in mind, the STORY Station 3.0 features three energy-saving modes including idle, sleep and suspend. The standby power level meets requirements for the European Union EuP (Energy Using Products) Directive for Standby Regulation.
The STORY Station 3.0 drive, available in densities ranging from 1TB to 2TB, is a part of the growing STORY product portfolio. The line-up now offers the widest range available in premium desktop storage - The STORY Station USB 2.0, the STORY Station Plus with e-SATA and USB 2.0, and the latest STORY Station 3.0. Preloaded software suites include Samsung Auto Backup, SecretZone and SafetyKey for data encryption and password protection.
The Samsung STORY Station 3.0 drives will be available globally now and it features a three-year warranty.
Last updated: Apr 7, 2020 at 12:01 pm CDT