Spring into Extreme Gaming with CyberPower and Newegg
-- Three New Intel Core i7 Systems Exclusively at Newegg
BALDWIN PARK, CA (April 23, 2010) - CyberPower www.cyperpowerpc.com customers can get extreme performance this spring with leading e-commerce retailer Newegg on a trio of new, value-packed, feature-rich, high-performance gaming PCs based on Intel's fastest desktop platform the X58 with Core i7 processor.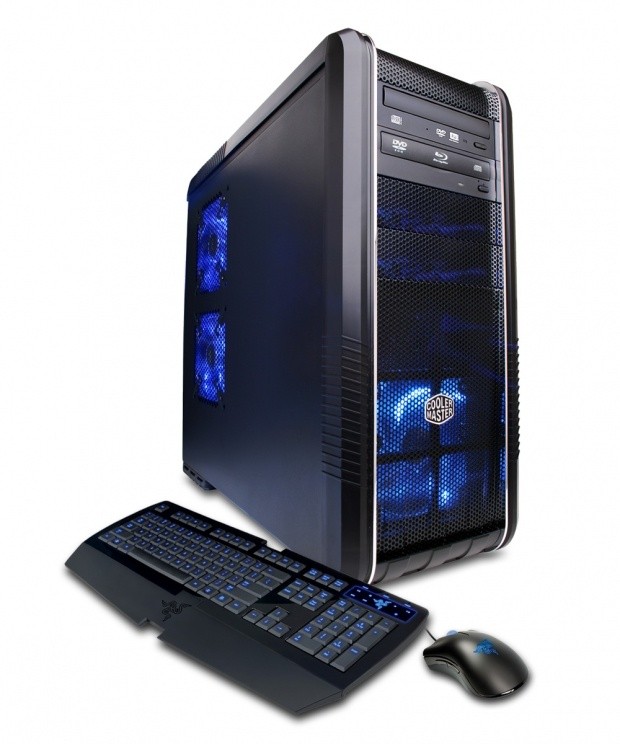 The new system includes the CyberpowerPC Gamer Xtreme 1064, Gamer Xtreme 1069LQ, and the Gamer Xtreme 1065LQ. All of the gaming systems feature the speedy processing power of the Intel Core i7 processor and rich graphics by NVIDIA. Users will enjoy a fast and efficient multitasking experience playing their favorite games, downloading internet files, chatting with friends and family, and streaming online content.
Extreme gaming starts with the top-end Gamer Xtreme 1065LQ. CyberPower and Newegg make sure you will not out grow your system any time soon. The Gamer Xtreme 1065LQ becomes the ultimate desktop gaming PC with Intel's Core i7 980X Extreme Edition 6 Core 12 thread CPU and the world's fastest single GPU, the NVIDIA GTX480 Fermi. Experience life-like game play with features such as NVIDIA PhysX and 3D surround technology. The Gamer Xtreme 1065LQ comes with 12GBs of DDR3 memory for lightning quick response time. The system is also packed with an Asetek 240mm liquid cooling solution to keep your processor cooled during intense computer use.
CyberPower's Gamer Xtreme 1069LQ is the second high performance desktop gaming PC in the lineup. Continuing to deliver great performance, the latest technology and unbeatable price, the Gamer Xtreme 1069LQ is powered by Intel's Core i7-975 Extreme Edition processor alongside NVIDIA's latest DirectX 11 capable GTX 470 video card for next generation of gaming. The Gamer Xtreme 1069LQ also comes with a 30GB SSD and 12GB of DDR3 memory for near instant data access and speedy overall system performance. An Asetek 120mm liquid cooling system keeps the CPU cool and system noise down.
Rounding out the trio is the Gamer Xtreme 1064, which includes the solid Intel Core i7-930 processor alongside NVIDIA's GTS 250 video card for a high performing, value packed system that will allow you to enjoy the latest games. 6GB of DDR3 memory provides fast load times and a 500GB HDD is included for all your digital media.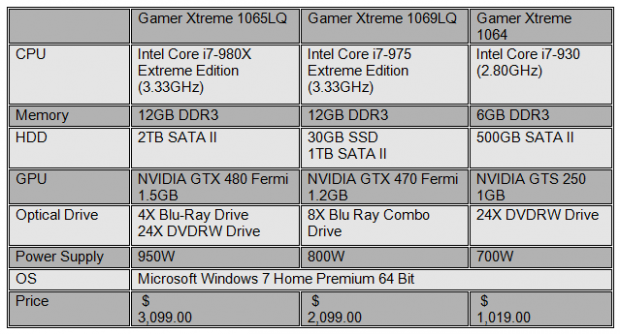 CyberPower gaming PCs available exclusively on Newegg are at:
Gamer Xtreme 1064
http://www.newegg.com/Product/Product.aspx?Item=N82E16883229179
Gamer Xtreme 1069LQ
http://www.newegg.com/Product/Product.aspx?Item=N82E16883229192&Tpk=1069lq
Gamer Xtreme 1065LQ Core i7 Extreme
http://www.newegg.com/Product/Product.aspx?Item=N82E16883229183
Microsoft Windows 7 Home Premium 64-bit comes standard on all three desktop PCs for the best multimedia and gaming experience. The systems are available through Newegg.com. All Cyberpower systems are backed by a 3-year warranty and lifetime toll-free tech support.
About CyberPower Inc.
CyberPower Inc. www.cyberpowerpc.com was founded in 1998 and has emerged as one of the leading custom computer system manufacturers. Headquartered in Baldwin Park in Southern California, CyberPower manufactures and distributes a complete line of custom built Gaming Desktops, Gaming notebooks and high performance workstations to meet the unique needs of gamers, businesses, government agencies, educational institutions and other end-users. For more information contact: Sales (800) 707-0393; Email cyberpower@cyberpowerpc.com.
Last updated: Apr 7, 2020 at 12:01 pm CDT