Lian Li's PC-Q08 Mini Tower Chassis for Mini-ITX and Mini-DTX
Removable HDD cage; more space to fit graphics cards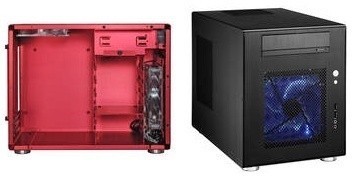 22 April 2010, Keelung, Taiwan - Lian Li Industrial Co. Ltd Ltd, announces yet another Mini-Q series - PC-Q08, after the successful launch of PC-Q07 last year. With increased case depth and removable lower HDD cage, the PC-Q08 offers more room to fit full size graphics cards. For power users who require maximum video performance, Lian Li's Mini-Q PC-Q08 is the solution.
General Features
The dimensions of PC-Q08 stand at 227mm x 272mm x 345mm (W.H.D) at only 2.73kg weight. This mini-tower chassis supports Mini-ITX or Mini-DTX motherboards. For future upgradability concern, the PC-Q08 is designed to use only standard PC components: standard 5.25" optical drive, standard 3.5" hard drives, standard ATX PS/2 power supply units and standard graphics cards. The Mini-Q PC-Q08 is available in red, black and silver colors.
User Friendly & Upgrading Design
Differently from the previous PC-Q07, the PC-Q08 is deeper in size with the modular lower HDD mounting cage being removable, allowing users to easily add in graphic cards up to maximum size of 300mm. Alternatively, the modular cage supports up to six 3.5" HDDs for users requiring lot of storage space.
Complete Thermal Solutions
The power supply is mounted vertically using a back plate offering the option for using the PSU fan exhaust for improved passive cooling of the motherboard and processor or turning the fan outwards if the motherboard is installed with CPU cooler. There are 140mm and 120mm intake LED fans on the front and top of Mini-Q PC-Q08, respectively, to offer additional air flow with lower RPM to remove the systems heat fast. Furthermore, there are vent holes at the rear and bottom of the case, as well as next to the rear PCI slots for additional air flow.
For more details on features and extras availabilities of Mini-Q PC-Q08 Series, please go to Lian Li's website: www.lian-li.com.
Highlights for PC-Q08A / PC-Q08B / PC-Q08R
• Supports Mini-ITX / Mini-DTX motherboards
• 300mm space for graphics cards
• Up to six standard 3.5" hard drives
• USB 3.0 multi-media I/O ports
• Standard ATX PS/2 power supply units
• LED Cooling fans: 140mm on the front; 120mm on the top
• Availability: Arriving at local distributors end of May
• MSRP: US$149+local VAT for PC-Q08A/B (silver/black), and US$185+local VAT for PC-Q08R (red)
About Lian Li
Lian Li Industrial Co. Ltd is an Aluminum Chassis and Chassis peripheral manufacturer and provider of industrial wholesale as well as OEM & ODM services for the PC industry as required. With over 20 years of service excellence, ISO 9001 certification and a team of professional staff willing to do the utmost to deliver durable, superior quality products, all backed by a *2 year guarantee; your satisfaction is guaranteed.(*conditions apply)
Last updated: Apr 7, 2020 at 12:01 pm CDT