Powerful Features and Design Make New ASUS ROG Crosshair IV Formula Irresistible to Gamers
The World's First Motherboard to Support Dual Channel DDR3 2000MHz on AMD Platforms
Sydney, Australia, 21 April 2010 - The brand new Crosshair IV Formula from ASUS Republic of Gamers ups the ante for everyone with an interest in gaming. Under the eye-catching design, the Crosshair IV Formula boasts ROG Connect for instant tweaking and monitoring of gaming rigs, user-friendly overclocking interface Turbo Key II and exclusive ASUS technologies Core Unlocker and GameFirst. All these guarantee tremendous success with top-line gaming PCs, as the new board offers exhilarating foundations to build upon.
[img]06[/img]
All Aboard the Gaming Express
The Crosshair IV Formula deploys the latest chipset architecture from AMD, opening up the most current performance CPUs on the market. ROG Connect, a built-in overclocking engine maximises benchmark scores by tuning and monitoring from a remote PC via USB, like a notebook. This way users can overclock while benchmarking, so all resources remain available to better performance. ROG Connect also serves as an in-depth monitoring tool, allowing users to obtain readings to see the effects mods such as overvolting have on their system.
Unlock CPU Potential
ASUS and Republic of Gamers are proud to announce Core Unlocker, an exclusive technology praised by worldwide media, to inject great value and performance into gaming setups. Many CPUs come with multiple cores deactivated during fabrication and Core Unlocker brings those back to life. Users simply have to press one button on the board and the AMD CPU placed in the socket goes through a physical scan in search of dormant cores. Dual core CPUs can become triple or quad in minutes, with obvious computing horsepower benefits.
Turbocharged Performance
Turbo Key II runs extensive overclocking automatically, detecting hardware tolerances and testing them to ensure stability. The excellent thermal design of the new Crosshair IV Formula means there's quite a lot of envelope pushing to be done safely, guaranteeing impressive gains. Once more, all users need to do is press the O.C button on the board and let the technology take it from there.
Game with the Flow
Multiplayer has become the norm, and gamers demand smooth connections to deliver uninterrupted action. The reality, however, is that many still don't enjoy optimised broadband, which is why ASUS has conjured GameFirst. This smart solution works with the board's networking pipeline to prioritise bandwidth, eliminate lag and lower latency.
Gaming applications get top access to resources on the hardware level-so online play becomes faster, more fluid and infinitely less frustrating. At the same time, other applications can work in the background without draining speed from mission critical needs.
Grounded in Ability
Storage comes in the form of six SATA 6GB/s and three SATA 3GB/s, ample room for growth and saving all the newest and biggest game titles. Also, the Crosshair IV Formula includes two USB 3.0 ports and HD audio from integrated SupremeFX X-Fi, fully EAX 4.0 compliant and ready to make those intense engagements roar with clear surround sound.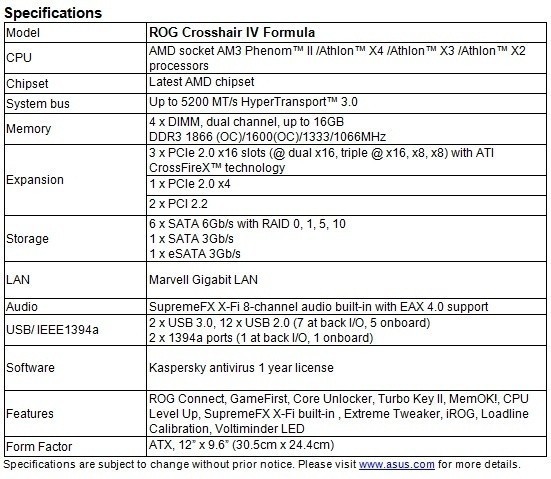 About ASUS
ASUS is a leading company in the new digital era, with a broad product portfolio that includes notebooks, netbooks, motherboards, graphics cards, displays, desktop PCs, servers, wireless solutions, mobile phones and networking devices. Driven by innovation and committed to quality, ASUS designs and manufactures products that perfectly meet the needs of today's home and office users. ASUS won 3,268 awards in 2009, and is widely credited with revolutionizing the PC industry with the Eee PC™. With a global staff of more than 10,000 and a world-class R&D design team, the company's revenue for 2009 was US$7.5 billion. ASUS ranks among BusinessWeek's InfoTech 100, and has been on the listing for 12 consecutive years.
ASUS Motherboards: No.1 in the World
ASUS is the No.1 motherboard brand in the world, commanding the biggest market share globally. Today, one in every three computers houses an ASUS Motherboard. ASUS is the pioneer of numerous innovations that have gone on to become industry standards. Recent examples include the Hybrid Phase power design, Hybrid Processor and Hybrid Switch overclocking design, and Protect 3.0 for safe operation. With its decades of expertise and dedication to pushing the envelope of motherboard design, ASUS is poised to continue leading the industry in motherboard performance, safety and reliability.
Last updated: Apr 7, 2020 at 12:01 pm CDT