STEELSERIES INTRODUCES NEW R.U.S.E.™ EDITION XAI LASER MOUSE AND QCK GAMING SURFACE FOR RTS FANS
Players Will Excel in Ubisoft®'s Game of Strategy and Deception with new SteelSeries Gaming Peripherals
CHICAGO - APRIL 14, 2010 - SteelSeries has teamed with game publisher Ubisoft to bring fans exclusive branded peripherals for the upcoming real-time strategy game R.U.S.E. Designed to give players a competitive advantage, the SteelSeries Xai Laser Mouse R.U.S.E. Edition enhances performance with its superior technology and a preconfigured profile setting that optimizes game-play. The preloaded R.U.S.E. profile, created with input from Ubisoft, allows quick access to the R.U.S.E. and HQ Menus, and preset macro buttons can take the player from the bird's eye view of the war to the heart of the battlefield in an instant. The SteelSeries QcK Limited Edition (R.U.S.E.) mousepad features graphics from the game and provides a smooth and consistent glide; combined they deliver a complete and immersive R.U.S.E. experience.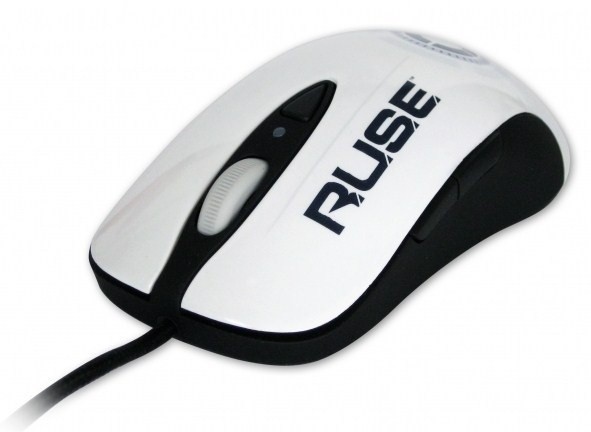 Currently in open beta, R.U.S.E. allows players to use strategy and bluffing tactics as the general of their nation's army during World War II. The speed and range of movement required in the game, demands tools that can deliver superb levels of precision and accuracy. Ubisoft chose to partner with SteelSeries, because of the award-winning, innovative features and technology that the SteelSeries Xai offers to gamers.
In addition to the R.U.S.E. profile that comes pre-loaded on the SteelSeries Xai Laser Mouse R.U.S.E. Edition, SteelSeries will offer pro-gamer recommended R.U.S.E. profiles for users to download once the game launches in June. These recommended profiles will be found on the SteelSeries web site.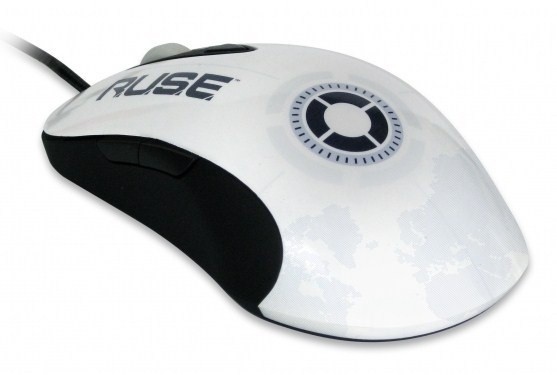 Important features on the SteelSeries Xai Laser Mouse R.U.S.E. Edition include:
• Ambidextrous shape with a 10.8 megapixels/second sensor processing 12,000 frames/second at 5,001 Counts Per Inch (CPI) with movement speeds of 150 inches/second
• Unique SteelSeries sensor innovations including SteelSeries ExactAim, SteelSeries ExactRate, SteelSeries ExactSens, SteelSeries FreeMove and automatic lift distance calibration deliver exceptional levels of personalization
• Up to 5 stored profiles including a preconfigured R.U.S.E. profile created with input from game publisher, Ubisoft
• 7 Programmable macro buttons with up to 200 strokes per button
• Full customization via LCD menu system on the back of the mouse stored by the hardware - eliminating the need for drivers and providing configuration capabilities on-the-go.
"R.U.S.E. is a strategy game that we believe players will experience differently than any other RTS game on the market. In a game where every detail matters, choosing a mouse that obeys both the eye and every sleight of hand is a good strategy. With excellent levels of precision and ergonomy, the SteelSeries Xai mouse could become your best ally," said Mathieu Girard, Senior Producer at Ubisoft. "Not only is it fully branded R.U.S.E. on the outside but is programmed with a special player profile."
"Industry awards, player feedback and tournament wins have shown us that the time we spent methodically perfecting the SteelSeries Xai Laser Mouse has paid off," said Bruce Hawver, CEO of SteelSeries. "R.U.S.E. players will be easily impressed with the game's unique game-play built around an incredible zooming engine, and with the technology we pack inside the SteelSeries Xai as well as the smooth glide and graphics of the QcK mousepad it all comes together to provide gamers with an outstanding RTS experience."
The SteelSeries QcK Limited Edition (R.U.S.E.) gaming surface is made of high quality cloth material and an optimized textured surface that guarantees smoothness and glide. The non-slip rubber base prevents sliding, no matter what surface the mousepad is on. Official artwork from the game depicts an exciting battle between opposing forces using the element of deception.
The SteelSeries Xai Laser Mouse R.U.S.E. Edition and QcK Limited Edition (R.U.S.E.) will retail for $79.99 EUR and $14.99 EUR online at the SteelSeries Web Shop as well as Amazon in Germany and UK, Harvey Norman in Australia and X-Cite in Kuwait.
R.U.S.E. is scheduled for release on Windows PC, the Xbox 360® video game and entertainment system from Microsoft, the PlayStation®3 computer entertainment system on June 4, 2010.
To learn more about R.U.S.E., visit www.rusegame.com.
About SteelSeries
SteelSeries is a leading manufacturer of gaming peripherals and accessories, including headsets, keyboards, mice, software and gaming surfaces, selling in more than 75 countries. SteelSeries has been on the forefront of professional gaming gear since its inception in 2001, thanks to continued innovation and product development in collaboration with leading professional gamers to ensure optimum performance and durability. SteelSeries supports the growth of competitive gaming and electronic sports through professional team sponsorships and community support all over the world. For more information, please visit www.SteelSeries.com.
About Ubisoft
Ubisoft is a leading producer, publisher and distributor of interactive entertainment products worldwide and has grown considerably through a strong and diversified line-up of products and partnerships. Ubisoft has offices in 28 countries and sales in 55 countries around the globe. It is committed to delivering high-quality, cutting-edge video game titles to consumers. Ubisoft generated sales of €1.058 million for the 2008-09 fiscal year. To learn more, please visit www.ubisoftgroup.com
Last updated: Apr 7, 2020 at 12:01 pm CDT