Compro IP530/IP530W with Pan/Tilt and IR Technology to Day & Night Secure Your Home and Office
Compro Technology announces the professional IP530/IP530W Network Camera with Pan/Tilt and IR technology.
Compro IP530/IP530W supports full 340-degree horizontal and 100-degree vertical rotation monitoring. Accompanying with new version professional surveillance software - ComproView, IP530/IP530W is free to set up preset positions and monitor specific areas. The function of 360-degree panoramic view of surveillance provides you completed surveillance solution.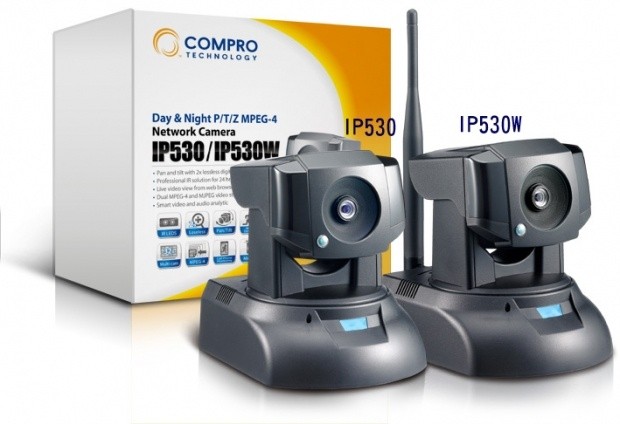 IP530/IP530W features the function of professional light sensor IR solution for any lighting condition. A light sensor will turn on an array of IR LEDs to illuminate the scene automatically when the lighting condition is dark for image clarity and switch off the IR LEDs when the lighting condition turns normal. It provides you continuously 24 hours / 365 days to complete protection. Also, with the Compro's exclusive free iDDNS dynamic domain name service offers you to easy control the situation through the mobile phone or network devices, while you are away from home.
Comparing with standard IP cameras, Compro loss less digital zoom technology provides excellent image quality with clear identification mark. The pixel mapping method is superior to interpolation mapping, which is offered on standard IP cameras.
In addition to pairs of two-way audio support and mobile connectivity, IP530/IP530W provides up to 6 alarm Inputs/Outputs function with an optional PTZ I/O Alarm Expansion Box. Under the environment of Connecting various sensors and alarms, you are able to have trouble-free monitoring home surveillance outside.
Compro IP530/IP530W network camera, with a full range of real-time high standard features, must be the best choice for live monitoring at home or indoor areas!
Key Features
- 1/3" CMOS progressive scan sensor
- Pan, Tilt, 2x digital lossless digital zoom
(Pan of 340 degrees, Tilt of 100 degrees)
- Day and night functionality with mechanical IR cut filter switching
- Built-in IR lamps
- Supports real-time MPEG-4 and MJPEG compression (Dual Codec)
- Supports dual streams simultaneously
- Image frame rate is up to 30 frames per second at 640x480 resolution
- Smart motion detection
- Two way audio with built-in MIC (External speaker required)
- Support UPnP (Universal plug and play)
- Support 10/100 802.3/Ethernet
- Built-in 802.11b/g WLAN (IP530W only)
- Supports local storage (MicroSD)
- Easy to Install with VideoMate IP Cam Wizard
- Remote Monitoring from 3GPP Mobile
- Bundle with powerful 32-channel IP video management software --- VideoMate ComproView
- Optional Digital I/O box for External Sensor and Alarm (3 In/3 Out)
Last updated: Apr 7, 2020 at 12:01 pm CDT