POWERCOLOR ANNOUNCES THE ULTRA OVERCLOCKED PCS++ HD5770
An increased overclocked solution to the HD5770
Taipei, Taiwan -April 7, 2010 -- TUL Corporation, a leading manufacturer of AMD graphics cards, announces its ultra overclocked solution to the HD5700 series: the PowerColor PCS++ HD5770. As an upgrade version of the PCS+ HD5770, the PCS++ HD5770 features not only additional factory overclocking with core and memory clocks at 875 MHz and 1250 MHz respectively, but also raises the cards overclocking ability. The limits increased to more than 950Mhz, pushes its potential for hardware enthusiasts.
The PCS++ HD5770 also features an ultra quite 92mm cooling fan, dissipating heat from the copper base that fully covers the GPU at lower fan speed and efficiently cools down the temperature up to 10°C compared to that of a reference board design. It is equipped with a digital power solution, allowing transforming efficiency up to 90% better and delivers the high quality output through its high frequency feature. This ensures more headroom for overclocking giving gamers maximum performance.
DiRT2 Game Bundle: Unleash DirectX® 11 gaming power
To maximize the DirectX® 11 technology, PowerColor includes the latest DiRT2 into PCS++ HD5770. DiRT2 is a world tour of adrenaline-fuelled extreme off-road events in stunning real-world locations. With the support of DirectX® 11 technology, this latest game delivers the most realistic, immersive and exhilarating racing experience to gamers.
"PCS++ HD5770 is an advanced version of PCS+ HD5770, featured not only factory overclocking and superb cooling ability, but also allows the core speed can run up to 950MHz;" said Ted Chen, CEO of TUL Corporation. "This is the right choice for the enthusiast gamers!"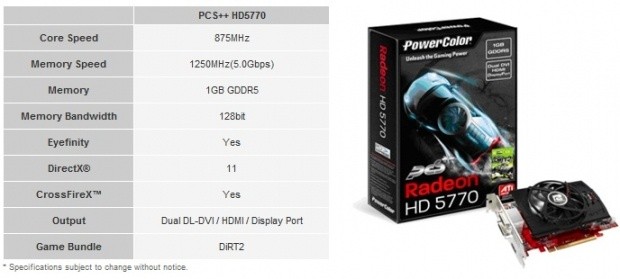 About TUL Corporation
TUL is a leading supplier of AMD graphics cards under the PowerColor brand. We offer award-winning products based on our technology leading components, quality design and superb engineering. TUL employs more than 150 talents worldwide, with offices in China, Europe, Russia and USA to support over 300 channel partners and distributors in 50 plus countries. For further information, visit: http://www.tul.com.tw/global/
For more product information, visit: www.powercolor.com.
Last updated: Apr 7, 2020 at 12:01 pm CDT