QNAP Adds TS-559 Pro Turbo NAS to Its High Performance Business Series Lineup
QNAP Systems, Inc., a leading manufacturer of world class NAS servers, NVR Video Surveillance Systems, and Network-based Video Players today expanded their popular Business Series Turbo NAS lineup with the addition of a new 5-drive desktop model, the TS-559 Pro. The TS-559 Pro provides up to 10TB of storage (using 2TB hard drives and single disk volume/ JBOD configuration), has been certified as compatible with VMware's vSphere 4 (ESX 4.0) virtualization platform, ideal for departmental file sharing, storage, and advanced server applications in the office environment.
The TS-559 Pro incorporates the Intel Atom D-510 1.66Ghz dual-core processor and includes 1GB of DDRII RAM, delivering exceptional performance and high reliability for multiple concurrent tasks and intensive data transfer with lower power consumption. Businesses of all sizes are able to enjoy the interoperability between VMware virtual machines and QNAP high performance storage to take the advantages of VMware cloud computing environments.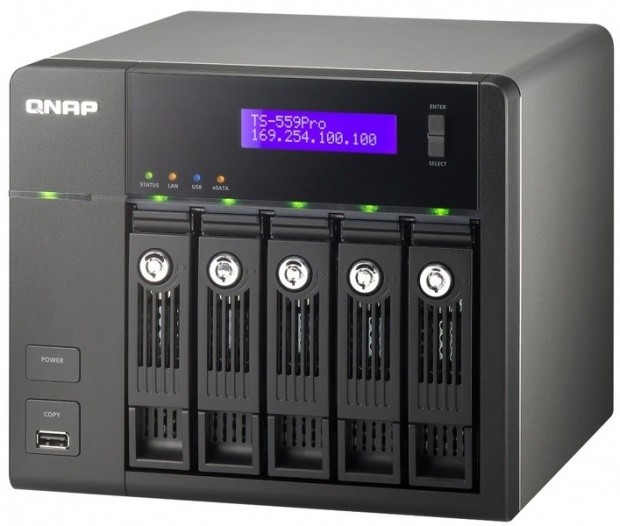 "Businesses are looking to cut IT costs, be greener, and move more IT functions into the cloud," said Laurent Cheng, Product Manager of QNAP Systems, Inc. "QNAP's Business Series helps achieve these goals by delivering Turbo NAS servers that can fully take advantage of cloud computing environments while being very energy efficient." Mr. Cheng added.
The TS-559 Pro features 5 hot-swappable drives and both 3.5-inch and 2.5-inch hard drives can be used. The TS-559 Pro supports RAID 0/ 1/ 5/ 5+ hot spare/ 6/ 6+ hot spare/ JBOD, online RAID capacity expansion, online RAID level migration and RAID recovery. The TS-559 Pro also features 256-bit AES volume level encryption for maximum data security. The new model provides 5 USB ports (1 front panel & 4 rear panel) and 2 e-SATA ports for storage expansion and printer sharing and advanced features including DOM architecture with fail-safe dual OS, scheduled power on/off, Wake on LAN, and HDD S.M.A.R.T.
The TS-559 Pro comes pre-installed with version 3.2 of the QNAP NAS management software which supports lots of class-leading new features such as iSCSI service; supports SPC-3 Persistent Reservation for clustering in VMware and Hyper-V clusters in Windows Server 2008. MPIO and MC/S are also supported. As well as new DFS support (Shared Folder Aggregation), import of user-list, the next-generation Internet Protocol, IPv6, has been incorporated for future networking evolution. QNAP's Web File Manager 2 features an entirely redesigned user interface and functionality for improved file sharing and management. WebDAV is also available for users to collaboratively share, access, and edit files over HTTP and HTTPS. Additionally, Apple Time Machine backups are now supported.
Availability
The new TS-559 Pro Business Series Turbo NAS server will be available at the end of March through popular global commercial distributors, resellers, and retailers.
Last updated: Apr 7, 2020 at 12:01 pm CDT