WD® LAUNCHES NEWEST WD VELOCIRAPTOR® - THE WORLD'S FASTEST SATA HARD DRIVE NOW HAS TWICE THE CAPACITY
10,000 RPM, 2.5-inch, 600 GB, 6 Gb/s SATA Hard Drive Delivers High Performance and Capacity for Both Enthusiast and Enterprise Customers
LAKE FOREST, CALIF. - Apr. 6, 2010 - WD® (NYSE: WDC) announced today that it is now shipping WD VelociRaptor® 450 GB and 600 GB hard drives, the next generation of its 10,000 RPM SATA family of hard drives. The new WD VelociRaptor hard drive is designed for blade servers, high-performance PCs, Mac® computers, professional workstations, as well as 1U and 2U rack servers that require a balance of high performance and capacity. As the only 10,000 RPM SATA hard drive on the market today, and a favorite amongst enthusiast and enterprise groups, the WD VelociRaptor hard drive now comes packed with twice the capacity and up to 15% performance increase over the previous generation.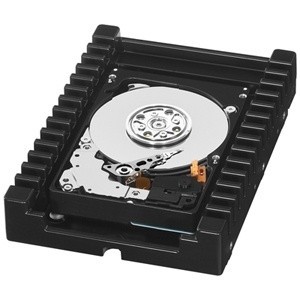 The most popular hard drive for high-performance enthusiasts who demand the ultimate SATA drive, the WD VelociRaptor hard drive is built with enterprise-class mechanics that provide 24x7 durability under high-performance demands and packs up to 600 GB of capacity into a 2.5-inch enterprise form factor. The WD VelociRaptor drive is also available in the IcePack™* enclosure, a 3.5-inch mounting frame with a built-in heat sink - a factory customization that fits the drive into a standard 3.5-inch system bay and keeps this powerful drive extra cool when installed in a high-performance desktop chassis and 3.5-inch HDD form factor enterprise chassis.
"WD is a leader in the performance and reliability of enterprise SATA hard drives," said Tom McDorman, vice president and general manager of WD's enterprise business unit. "Demand for performance combined with an increase in capacity continues to rise and WD is the leader in this category. WD customers can rely on the new WD VelociRaptor to deliver high performance under the harshest conditions, while continuing to keep user data safe."
Features of the new WD VelociRaptor hard drives include:
• Killer speed- SATA 6 Gb/s interface and 32 MB cache enhance the next generation 10,000 RPM WD VelociRaptor making it up to 15% faster than the award-winning previous generation.
• Monstrous capacity - WD VelociRaptor SATA drives are available in capacities up to 600 GB, double the capacity of the previous generation.
• Rock-solid reliability - Designed and manufactured to mission-critical enterprise-class standards to provide enterprise reliability in high duty cycle environments. With 1.4 million hours MTBF, these drives have the highest available reliability rating on a high capacity SATA drive.
• Ultra-cool operation - Consumes no more power than the previous generation WD VelociRaptor while offering double the capacity and higher performance.
• IcePack mounting frame - The 2.5-inch WD VelociRaptor is enclosed in a backplane-ready 3.5-inch enterprise-class mounting frame with a built-in heat sink that keeps this powerful little drive extra cool when installed in high-performance desktop chassis.
• Rotary Acceleration Feed Forward (RAFF™) - Optimizes operation and performance when the drives are used in vibration-prone, multi-drive chassis.
• NoTouch™ ramp load technology - The recording head never touches the disk media ensuring significantly less wear to the recording head and media as well as better drive protection in transit.
• Environmentally conscious - In addition to being ROHS compliant, this generation of WD VelociRaptor is also a halogen-free design.
Price and Availability
WD VelociRaptor (model WD4500HLHX and WD6000HLHX - 3.5-inch version with IcePack) hard drives are available now at select distributors and resellers. WD VelociRaptor 2.5-inch hard drives (model WD4500BLHX and WD6000BLHX) are under evaluation with OEM customers and will be available through select commercial distributors within this quarter. Manufacturer's Suggested Retail Price (MSRP) for the WD VelociRaptor 450 GB (model WD4500HLHX) is $299 USD and the 600 GB (model WD6000HLHX) is $329 USD. More information about WD VelociRaptor hard drives may be found on the company's Web site at
http://www.wdc.com/en/products/Products.asp?DriveID=821
.
About WD
WD, one of the storage industry's pioneers and long-time leaders, provides products and services for people and organizations that collect, manage and use digital information. The company designs and produces reliable, high-performance hard drives and solid state drives that keep users' data accessible and secure from loss. Its advanced technologies are configured into applications for client and enterprise computing, embedded systems and consumer electronics, as well as its own consumer storage and media products.
Last updated: Apr 7, 2020 at 12:01 pm CDT