Silicon Power: All-Around Protection ~ Armor A70 is Water, Pressure, Vibration and Dust Proof for the Ultimate Road Warrior
<2010.03.31- Taipei, Taiwan> World leading flash manufacturer Silicon Power announced today, the Tough Marine Warrior¡ª Armor A70 Portable Hard Drive. Like previous Armor series of products, the Armor A70 is in compliance with US military grade MIL-STD-810F 516.5 procedure IV (Transit drop test). In addition to its abilities to withstand most shock and vibration forces, it is also in compliance with IEC529 IPX7 waterproof tests! The test places the Armor A70 one meter under water for 30 minutes and yet, upon retrieving A70 submersion, it is not affected in any way and is still fully operation. Passing the two rugged tests mentioned above, the Armor A70 also features dust and pressure-proof characteristics. It is rock-solid inside and out just like a well trained military marine!
The water, pressure, vibration, shock and dust proof Armor A70 is perfect for people constantly on the move. It is ready for any unexpected situations such as rain, liquid-spillage or accidental drops. It is the best companion for an ultimate road warrior! It is designed with a delicate cable storage mechanism to better support its plug and play functionality.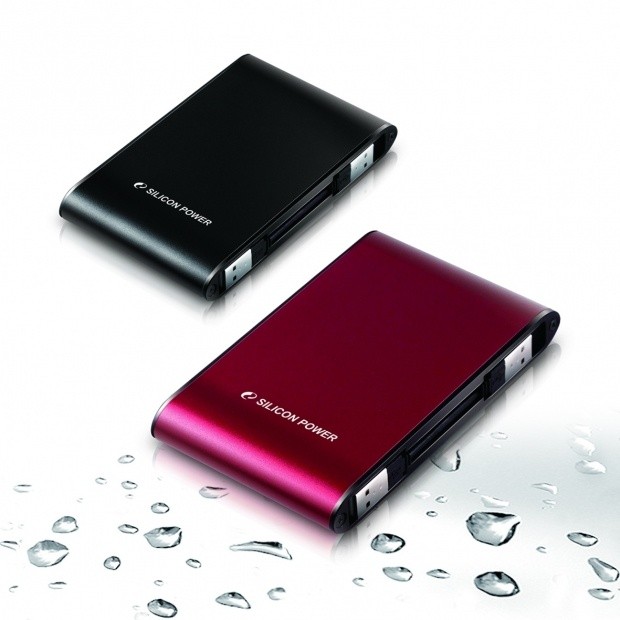 The rough and tough Armor A70 is applied in its physiques but its designs suit the tastes of professionals in both genders. It is designed with a fashionable retro feel in mysterious red or black blending in with its contour lines. The decision to use the color mysterious red is the result of the 2009 and 2010 fashion analysis. The color is somewhere between dark red and tomato red, it is deemed to be the color of 2010 spring / autumn fashion! The mysterious red gives off a misty, varnish and passionate feel. The black design of Armor A70 is the ultimate fashion color and added is the matte finish, displaying a gentlemen aura of graciousness.
Armor A70 comes with a LED status indicator light and is compatible with USB 2.0 standards, featuring a maximum transfer bandwidth of 480Mb/sec. It comes with Silicon Power¡¯s free SP Widget software that has 7 major protection and backup utilities. In addition, Silicon Power will also throw in NIS (Norton Internet Security) software (60 day trial version).
Silicon Power Armor series of portable hard drives have received various rave reviews since its initial release. Most recent award announcement is in Malaysia where Armor A50 won Malaysia¡¯s HWM Magazine recommendations and was awarded a Silver medal. Silicon Power¡¯s Armor A70 continues the Armor series tradition with its full proof characteristics. Available in 250GB, 320GB, 500GB and 640GB storage capacities, it also comes with a 2-year warranty.
Product features:
- In compliance with IEC529 IPX7 water proof test
- In compliance with US military grade MIL-STD-810F 516.5 procedures IV (Transit drop test)
- Dust and pressure proof
- Delicate cable storage design
- Ultra storage capacity and high speed transfer (480Mbits/sec)
- LED status indicator light
- SP Widget software with 7 major protection and backup functionality (free download)
Product specifications:
- Dimension: 139.45 x 85.7 x 18.1mm
- Weight: 250 grams
- Interface: USB 2.0 / 1.1
- Transfer speed: Max. 480 Mbps (USB 2.0 Mode)
Max. 12 Mbps (USB 1.1 Mode)"
- Power requirement: DC5V (power supplied through USB)
- Supported operating systems: Windows 7, Windows Vista, WinXP, Win2000, Mac 10.3.X above, Linux 2.6.X above
- Operation temperature: 5¡æ~ 55¡æ
- Storage temperature: -40¡æ~ 70¡æ
- Capacities: 640GB, 500GB, 320GB, 250GB
- Colors: Mysterious red / black
- 2-year warranty
About Silicon Power
Silicon Power Computer & Communications Inc., founded by a group of specialists with more than 20 years experience in the field of international trading, global marketing, technical know-how of flash data storage products, is the world's leading manufacturer of flash memory cards, USB flash drives, DRAMS, and card readers. We are also the initiator to offer Lifetime Warranty service both for the Flash Memory Card series and USB Flash Drive products. At the heart of Silicon Power, it exists a strong atmosphere of "Sharing, Caring, and of being Trustworthy." These are our finest commitments at the core. Recognized and supported in over 90 countries, Silicon Power provides fast, international lifetime service and superior products. Silicon Power makes a remarkable and successful achievement in the global community. The company is headquartered in Taipei and has established branches worldwide including the Netherlands and Japan.
Last updated: Apr 7, 2020 at 12:01 pm CDT