iBUYPOWER Announces Availability of Battalion Touch CZ-11 with Intel Core i7 Processor and Full HD 1080 LCD

El Monte, CA - March 30, 2010 - iBUYPOWER, a leading innovator in gaming PCs, is excited to announce availability of the new multi-touch gaming notebook - Battalion Touch CZ-11. Launching on the heels of the highly successful Battalion Touch CZ-10, the CZ-11 is second in a line of new multi-touch notebooks from iBUYPOWER. iBUYPOWER Battalion Touch Notebooks are the only multi-touch gaming notebooks currently available anywhere in the world.
"Multi-touch is one of the fastest growing PC gaming interfaces," said Darren Su, Executive Vice President of iBUYPOWER. "Pairing those capabilities with a Core i7 processor, high definition LCD and graphics card allows the CZ-11 to meet the mobile gaming needs of almost any user."
The Battalion Touch multi touch gaming notebooks are perfect for Real-Time strategy gaming titles like R.U.S.E from Ubisoft, which is available in Beta now and due out on June 3 of this year. The beta has already been downloaded by well over 1 million gamers worldwide.
iBUYPOWER's newest 15-inch multi-touch gaming notebook features a Full HD 1920×1080 LCD with DirectX-11 capable graphics and the powerful new Intel Core i7- mobile processor. The CZ-11 also features 4GB of DDR3 memory, an ATI Radeon HD 5650 DirectX 11 graphics card, 500 GB hard drive and an optional Blu-ray drive. Starting at a gaming-ready configuration for just $1,299, the Battalion Touch CZ-11 can be customized to meet your needs for as low as $1,100.
Customers with more specific gaming needs can configure a fully customizable gaming PC at www.iBUYPOWER.com. All iBUYPOWER systems come standard with 1 year limited warranty and lifetime technical support.
For additional information about iBUYPOWER please visit www.iBUYPOWER.com, or contact PR representative Mark Olson at 305.576.1171 x17 or markolson@maxboregsagency.com.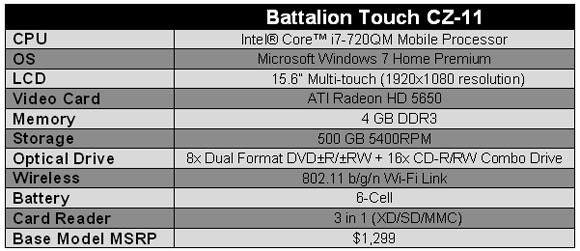 About iBUYPOWER
iBUYPOWER Computer, an enterprise in association with American Future Technology Corporation (AFT), is one of the largest system builders in the PC gaming industry. Located in Los Angeles County, iBUYPOWER's mission is to provide a complete computing solution to meet the needs of the surrounding community and customers nationwide. Currently, the company's product lines include gaming desktops, gaming notebooks, workstations, media center PCs, peripherals and multimedia products.
Last updated: Apr 7, 2020 at 12:01 pm CDT