MSI 2010 Education Reseller Program to Award 20 Wind Notebooks and 20 Wind Top All-in-One PCs to Eligible K-12 Schools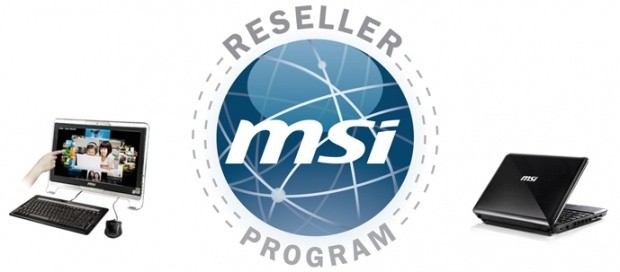 Program Provides Exclusive Incentives to MSI K-12 VARs/Resellers, Including Free Trials and Competitive Pricing on MSI PCs and Notebooks
CITY OF INDUSTRY, CA - March 30, 2010 - MSI Computer, a leading manufacturer of computer hardware products and solutions, today announced its new 2010 Education Reseller Program for value-added resellers (VARs) targeting K-12 schools throughout the U.S. From March through December 2010, the MSI program is offering a range of unique promotions and incentives designed to assist its education market channel partners during this challenging period for school districts across the country.
"The MSI Education Reseller Program is designed to help our reseller partners better service their customers and meet business goals, as well as to provide educators and school administrators access to the latest computing technologies, at affordable prices," said Andy Tung, Sales VP, MSI Computer. "We currently have a terrific group of resellers that share this same goal and we are committed to expanding the program through innovative sales strategies, award-winning products, unparalleled service and support."
The MSI 2010 Education Reseller Program includes:
- Free 30-day trails - Resellers may sign up customers in K-12 schools/districts for free trials of MSI's advanced all-in-one PCs and notebook computers, including:
- Wind Top AE1900 or Wind Top AE2010 all-in-one PCs
- Wind U130 or U135 10-inch netbook computers
- Discounted pricing on trial unit - After the 30-day trial period, schools may return the units to MSI free of charge, or purchase the trial unit at a special discounted rate.
- Prizes for participating schools - Schools/districts that enter the free 30-day trial program will be automatically eligible to win one of two prizes:
- 1st Prize: 20 Wind Top all-in-one PCs
- 2nd Prize: 20 Wind 10-inch netbooks
MSI's wide range of programs and services are designed to extend resellers' market reach, boost profitability and help better meet customer needs. From exclusive promotions and incentives, and comprehensive sales and marketing services, to technical support and a broad selection of advanced computing products, MSI is committed to help its reseller partners thrive.
More information about the 2010 Reseller Education Program, including submission information and giveaway rules, is available at:
http://service.msicomputer.com/msireseller/login.aspx
About MSI Computer
Founded in 1986, MSI strives to design and manufacture superior technology and innovative products, while offering outstanding customer service. MSI has continued to uphold a business philosophy that stresses "Award-winning product quality and outstanding customer service." MSI specializes in the design and manufacture of Mainboards, Graphics cards, Desktop PCs, All-in-one PCs, and Notebook PCs. To learn more about MSI's complete product lines, please visit: http://us.msi.com.
Last updated: Apr 7, 2020 at 12:01 pm CDT