New NVIDIA GeForce GTX 480 GPU Cranks Up PC Gaming to New Heights
Latest Consumer GPU Delivers Unprecedented DirectX 11 Performance, 3D Vision Surround, PhysX, and Interactive Ray-Tracing
SANTA CLARA, California-March 29, 2010-Hot off the heels of PAX East, the consumer gaming show held this past weekend in Boston, NVIDIA today officially launched its new flagship graphics processors, the NVIDIA® GeForce® GTX 480 and GeForce GTX 470.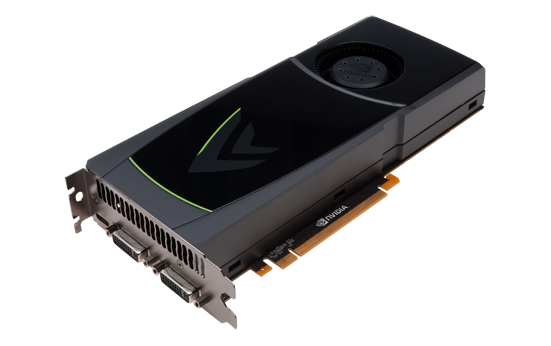 The top-of-the line in a new family of enthusiast-class GPUs, the GeForce GTX 480 was designed from the ground up to deliver the industry's most potent tessellation performance, which is the key component of Microsoft's DirectX 11 development platform for PC games. Tessellation allows game developers to take advantage of the GeForce GTX 480 GPU's ability to increase the geometric complexity of models and characters to deliver far more realistic and visually compelling gaming environments.
The GeForce GTX 480 is joined by the GeForce GTX 470 as the first products in NVIDIA's Fermi line of consumer products. They will be available in mid-April, from the world's leading add-in card partners and PC system builders. The remainder of the GeForce 400-series lineup will be announced in the coming months, filling out additional performance and price segments.
The GeForce GTX 480 and GTX 470 GPUs bring a host of new gaming features never before offered for the PC - including support for real-time ray tracing and NVIDIA 3D Vision™ Surround for truly immersive widescreen, stereoscopic 3D gaming.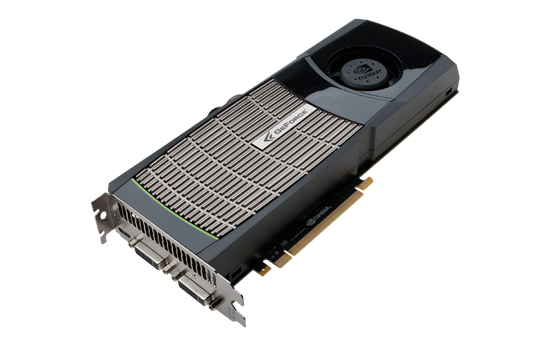 Facts about NVIDIA GeForce GTX 480:
• Tear it up. Gamers want the fastest GPU on the market and GeForce GTX 480 sets the new standard. Its next-generation architecture delivers unprecedented gaming performance at maximum resolution and quality settings, even on the latest DirectX 11 titles.
- On average, 27 percent faster performance than any GPU on the market in newer DX11 applicationsi. At 19x12 4xAA/16xAF resolution, the GTX 480 is 61 percent faster in Metro 2033, 89 percent faster in Unigine Heaven v2, and 29 percent faster in Battleforge than the closest competitive product.
• Dial it up. The new NVIDIA® PolyMorph Engine, a scalable geometry processing engine built from the ground up for DirectX 11 tessellation, enables incredibly detailed game characters and terrain with blazing performance. In addition, high-speed 32x anti-aliasing smoothes edges for top-notch visual quality.
- The GTX 480 is also the world's first consumer GPU to enable interactive ray tracing for ultra photo-realistic scenes.
• Scale it up. New NVIDIA 3D Vision™ Surround technology expands the gaming real estate across three monitors in full stereoscopic 3D - making for a truly immersive gaming experience.
- Combined with NVIDIA 3D Vision wireless active shutter glasses, 3D Vision Surround technology lets you feel like you're in the game
◦Capable of rendering more than 746M pixels/second at full HD 1080p for a mind-blowing, 5760x1080 gaming experience.
◦Advanced NVIDIA software automatically converts more than 400 games to stereoscopic 3D without the need for special game patches.
- Get a complete view of the battlefield in real-time strategy games.
- Manage inventory windows and quest logs, and track your party in your favorite MMORPGs.
- See your enemy's movement quicker and react first in first-person-shooters.
- Buckle yourself into the driver seat of your favorite racing game and be immersed in the action.
*Watch Blu-ray 3D movies, view 3D photographs, or stream 3D content over the Web.
• Blow it up. NVIDIA PhysX® technology brings games to life with dynamic, interactive environments.
- Two times the PhysX technology performance over prior generation GPUs for dynamic game effects, such as turbulence, fluids and smoke.
* New NVIDIA® GigaThreadTM scheduler allows up to 10-times faster switching between graphics and physics processing, enabling more complex effects to be rendered in real time.
• Open it up. Next-generation CUDA™ architecture unleashes the computational power of the GPU to tackle the most intensive multimedia applications
- World's most open computing platform, with complete language and API support, including CUDA C/C++, DirectCompute, OpenCL, Java, Python, and Fortran for the broadest compatibility with GPU-accelerated applications.
- Full support for GPU computing under Microsoft Windows 7.
"The of GeForce GTX 480 is something we've been eagerly anticipating," said Mike Angiulo, general manager of Windows planning and PC ecosystem at Microsoft Corp. "Microsoft designed Direct X11 for Windows 7 with native support for GPGPU, tessellation, and improved multi-threading. NVIDIA clearly embraced this and designed the GTX 480 with a scalable tessellation architecture in a multi-core environment to bring game development to a new level. And, we think developers will be impressed to see how they can truly take advantage of the power of DX11 to create compelling games, as well as multimedia applications."
About NVIDIA
NVIDIA (NASDAQ: NVDA) awakened the world to the power of computer graphics when it invented the GPU in 1999. Since then, it has consistently set new standards in visual computing with breathtaking, interactive graphics available on devices ranging from tablets and portable media players to notebooks and workstations. NVIDIA's expertise in programmable GPUs has led to breakthroughs in parallel processing which make supercomputing inexpensive and widely accessible. The company holds more than 1,100 U.S. patents, including ones covering designs and insights which are fundamental to modern computing. For more information, see www.nvidia.com.
Last updated: Apr 7, 2020 at 12:01 pm CDT