ASUS Readies Latest Motherboards for Upcoming Six-core CPUs
Full Range of AMD-based Motherboards are Ready to Support Next-generation Personal Computing with Six Cores
Sydney, Australia, 26 March 2010 - ASUS announced a full range of motherboards that are ready to support the upcoming six-core AMD® Phenom™ II X6 processors to herald a new era in ultra-powerful personal computing.
The AMD six-core processor-ready ASUS M4 Series motherboards deliver maximum performance on a mainstream platform. Joe Hsieh, General Manager of ASUS Motherboard Business, said, "Besides being ready to support six-core processors, the ASUS M4 Series gives users of every level the best performance and value with its Core Unlocker feature. This has received notable recognition from many of the world's top media organisations for delivering a phenomenal boost in performance." M4 Series motherboards with the exclusive Core Unlocker technology have also garnered global accolades for being the best motherboard for AMD processors.
Simple BIOS Upgrade For 6-core Activation
ASUS' M4 Series motherboard is ready for the AMD Phenom™ II X6 processors. To enable six-core CPU and achieve maximum performance, users simply need to update the BIOS of their existing M4 Series.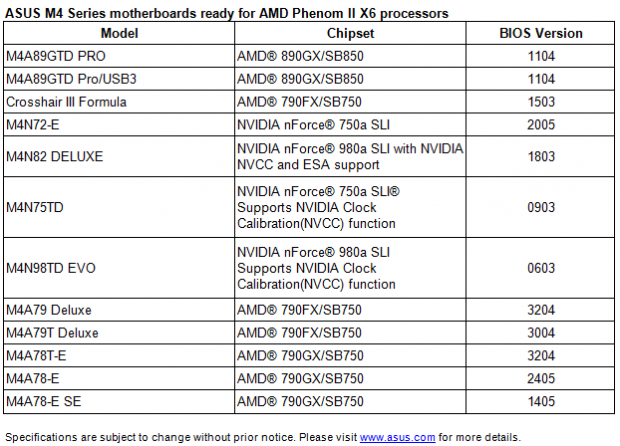 About ASUS
ASUS is a leading company in the new digital era, with a broad product portfolio that includes notebooks, netbooks, motherboards, graphics cards, displays, desktop PCs, servers, wireless solutions, mobile phones and networking devices. Driven by innovation and committed to quality, ASUS designs and manufactures products that perfectly meet the needs of today's home and office users. ASUS won 3,268 awards in 2009, and is widely credited with revolutionizing the PC industry with the Eee PC™. With a global staff of more than 10,000 and a world-class R&D design team, the company's revenue for 2009 was US$7.5 billion. ASUS ranks among BusinessWeek's InfoTech 100, and has been on the listing for 12 consecutive years.
ASUS Motherboards: No.1 in the World
ASUS is the No.1 motherboard brand in the world, commanding the biggest market share globally. Today, one in every three computers houses an ASUS Motherboard. ASUS is the pioneer of numerous innovations that have gone on to become industry standards. Recent examples include the Hybrid Phase power design, Hybrid Processor and Hybrid Switch overclocking design, and Protect 3.0 for safe operation. With its decades of expertise and dedication to pushing the envelope of motherboard design, ASUS is poised to continue leading the industry in motherboard performance, safety and reliability.
Last updated: Apr 7, 2020 at 12:01 pm CDT