iBUYPOWER Launches 4 New Highly Overclockable Paladin Systems - All Featuring New Intel 6 Core Processors
Paladin XLC V3 ships overclocked by as much as 30% and all four models feature free liquid CPU cooling

El Monte, CA - March 18, 2010 - iBUYPOWER, a leading innovator of gaming PCs, is excited to announce four new Paladin gaming systems all powered by the new Intel Core i7 980X Extreme Edition Processor. The new 6 core processors are extremely overclockable, deliver benchmark shattering performance and allow unmatched multitasking capability. Gamers need not be concerned with having multiple browsers open, team speak, or MP3s files playing while gaming due to the new processor's revolutionary hyper-threading technology.
The four new configurations all feature the finest components available, including the newest ATI Radeon and NVIDIA GeForce high-definition video cards, which all support DirectX 11 graphics. The Paladin F950, F970 and XLC V3 all pack 12GB of DDR3 Memory, provide at least a 1 TB of storage space and a Blu-ray drive. The fully loaded F970 and XLC V3 also come standard with an 80GB solid state drive and have been upgraded to Microsoft Windows 7 Ultimate. Additionally, like all iBUYPOWER desktop systems, the newest Paladin model all feature free liquid CPU cooling.
Gamers looking to get the most out of their new six core systems can take advantage of the iBUYPOWER Labs' Power Drive Overclocking Service, which overclocks the CPU by as much as 30% and comes standard on the Paladin XLC V3. Other innovative iBUYPOWER exclusive products and services include the Harmony Sound Reduction System, the Internal USB Expansion System, and iBUYPOWER's Specialized Advanced Packaging System with expanding foam inserts to prevent damage during shipping.
The new Paladin systems start at $2,159 and are available now at www.iBUYPOWER.com.
Customers with more specific gaming needs can configure a fully customizable system at www.iBUYPOWER.com. All iBUYPOWER systems also come standard with 1 year limited warranty and lifetime technical support.
For additional information about iBUYPOWER please visit www.iBUYPOWER.com, or contact PR representative Mark Olson at 305.576.1171 x17 or markolson@maxboregsagency.com.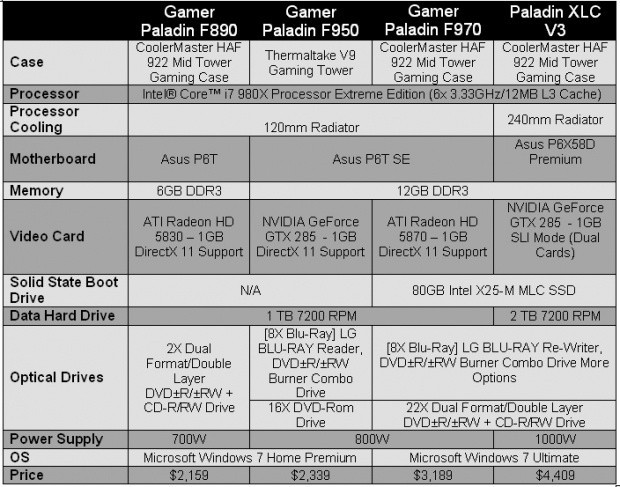 About iBUYPOWER
iBUYPOWER Computer, an enterprise in association with American Future Technology Corporation (AFT), is one of the largest system builders in the PC gaming industry. Located in Los Angeles County, iBUYPOWER's mission is to provide a complete computing solution to meet the needs of the surrounding community and customers nationwide. Currently, the company's product lines include gaming desktops, gaming notebooks, workstations, media center PCs, peripherals and multimedia products. www.iBUYPOWER.com
Last updated: Apr 7, 2020 at 12:01 pm CDT