LSI Starts Shipping LSISSS6200 PCI-E Solid State Storage Card
LSI Corporation today announced it is sampling a PCI Express (PCIe)-based solid-state storage (SSS) solution to OEM customers. The LSISSS6200 PCIe SSS card provides a high-performance storage solution with enhanced reliability and industry-leading storage density for enterprise servers. For easy system integration and management, the card uses the industry-standard SAS protocol and widely deployed LSI SAS software. The card is designed to maximize transactional I/O performance for applications such as Web serving, data warehousing, data mining, online transaction processing and high-performance computing.
"Future customer requirements related to price, performance, power consumption and reliability align well with the benefits of solid-state storage," said Jeff Janukowicz, research manager, Hard Disk Drive Components and Solid State Drives at IDC. "PCIe-based SSS solutions, such as the LSISSS6200, can reliably meet next-generation data center needs with an improved price-to-performance ratio compared to traditional storage solutions."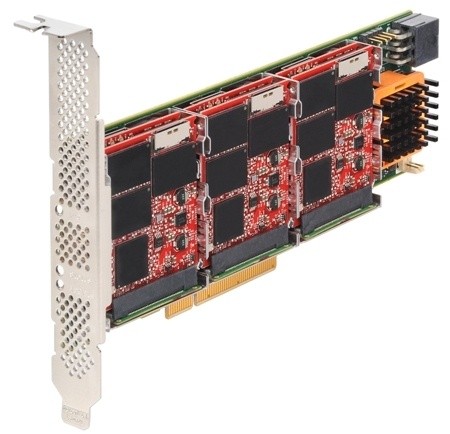 Offering high performance with low latency and a low CPU burden, the small form factor PCIe card delivers up to 200,000 4K sequential I/Os per second (IOPS) and up to 150,000 4K random IOPS. It achieves bandwidth of 1,500MB/s sustained sequential I/O and 1,200MB/s sustained random I/O, regardless of read/write mix. Storage capacity of up to 300GB can be configured in a single PCIe slot with no external power requirement. Using industry-standard LSI software drivers, the card provides support for all major operating systems and helps OEM customers achieve a faster time to market.
"The new LSISSS6200 card utilizes the industry's most widely deployed software stack to deliver an enterprise-capable, drop-in storage solution," said Steve Fingerhut, senior director of marketing, Storage Components Division, LSI. "Providing customers with a new tier of storage between system memory and low-cost disk drives, without sacrificing reliability or simplicity, PCIe-based SSS solutions represent the next evolution in storage architectures for market segments requiring extreme performance."
LSI brings decades of enterprise-level experience in the design, manufacture and support of storage products for critical applications. LSI is already deeply engaged in delivering solid-state storage technologies, from custom silicon to storage systems. Bringing the proven engineering capabilities and global scale of LSI to the development of PCIe-based SSS solutions will help pave the way to market segment maturity and broad enterprise adoption.
Last updated: Apr 7, 2020 at 12:01 pm CDT