Digital Storm's DAVINCI Ushers in Workstation Renaissance for Creative Professionals
Intel i7 980X and NVIDIA Quadro powered workstations optimize application performance for superior digital content creation

Digital Storm's DAVINCI workstations harness the power of Intel's new i7 980X processor, NVIDIA's Quadro graphics card and are designed to fully utilize NVIDIA's ground-breaking CUDA technology. With the DAVINCI's line of custom workstations, Digital Storm has created a platform for creative professionals' that will boosts productivity, allowing them to accomplish more in less time.
Each DAVINCI workstation is fully customized by integrating the industry's latest hardware; with the goal of optimizing performance for the customer's chosen applications. Digital Storm technicians and customer support staff have years of expertise in system integration. Their understanding of how hardware maximizes software performance is unsurpassed. To further outperform all other workstations, Digital Storm gives creative professionals the option to have the processor overclocked, while still being backed by the company's 4 year warranty.
DAVINCI workstations come standard with Digital Storm's complete 4 Year Parts and Labor Warranty and customers can opt for an extended 5 Year Parts and Labor Warranty. Knowing the rigorous work schedules of most creative professionals, Digital Storm offers the option to have replacement parts shipped express overnight, in an effort to minimize down time.
Prior to shipping to the customer, each DAVINCI system undergoes a rigorous 72-Hour Stress-Test. Digital Storm technicians stress-test and benchmark the system via industry standard testing software coupled with a proprietary testing process that detects components which can be prone to future failure.
"The philosophy behind DAVINCI is simple: engineer a workstation that completely maximizes application performance so that creative professionals can accelerate their productivity," commented Rajeev Kuruppu, Digital Storm's Director of Product Development. "Thanks to NVIDIA's and Intel's most powerful components to date, our DAVINCI workstations will be fully optimized for the forthcoming release of Adobe's Creative Suite 5."
Digital Storm's DAVINCI workstations are available for purchase at www.DigitalStormSystems.com. The base configuration for the Performance configuration has a price of $2,952 and customers can take advantage of an additional $200 off during Digital Storm's launch promotion. Each Digital Storm system comes with a 4 year parts and labor warranty, including replacement parts, and lifetime customer support.
DAVINCI Technical Specifications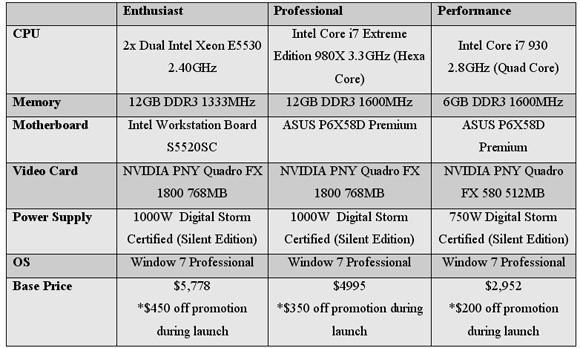 About Digital Storm
Founded in 2001, Digital Storm has rapidly emerged as the predominant name in system integration. With expertise in gaming and workstation PCs, Digital Storm's mission is to deliver its customers bleeding edge technology and performance, coupled with rock solid stability and support. As a validation of Digital Storm's success, the company has retained an "A+" rating from the BBB since 2006 and its systems have received the industry's most prestigious awards. www.DigitalStormOnline.com
Last updated: Apr 7, 2020 at 12:01 pm CDT