Mvix introduces HDMI Splitter, a 1080p HD Video Distribution System for Digital Signage and Residential Applications
Chantilly, VA. March 16, 2010: MvixUSA, a market leader in HD entertainment, business signage solutions and networked accessible storage devices, launches Mvix Splitter, a stand-alone HDMI video distribution system for splitting the High Definition Video signal.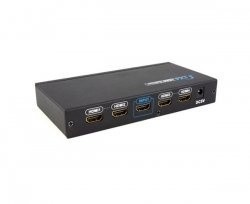 Mvix Splitter splits the 1080p High Definition Video signal from one HDMI source device (BluRay, Digital Signage, Media System) to four display LCDs simultaneously. A perfect accessory for Digital Signage and HD Display Wall applications, Mvix splitter is competitive priced and offers a small footprint to ease installations.
Mvix splitter offers a high quality, high performance HDMI 1.3b platform for AV signal distribution. Equipped with one input and four outputs on gold plated connectors, It supports high bandwith, Full-HD (1080p) video and high resolution digital DTS-HD and Dolby True HD 7.1 channel audio. A built-in, powered, equalizer ensures reliable connections for longer cable runs. Mvix Splitter provides a data rate of up to 2.25Gbps, and allows for a comprehensive deep color HD splitting. This externally-powered Splitter is designed to support 480i, 480p, 720P, 1080i and 1080p resolutions.
"Splitter is the latest accessory to our product line-up. By adding this product, we hope to provide our customers with a full range of products and accessories in the HD Media Center, HTPC and digital signage systems market. We expect this accessory to be useful for business and residential clients who want to broadcast a HD video simultaneously at multiple locations, without losing the quality of true 1080p." - commented Mike Mallon, the VP of business development of Mvix(USA), Inc.
Mvix Splitter is very reasonably priced at $130 and targeted to VARs and System Integrators in Residential and Commercial markets. It will be available for immediate shipment from Mvix and other leading consumer electronics distributors / retailers.

For more information on Mvix Digital Signage, visit
www.mvixusa.com/product/ds-splitter
Last updated: Apr 7, 2020 at 12:01 pm CDT