MSI's New Products Shine at CeBIT 2010!
Wed, Mar 3 2010 2:47 AM CST
MSI's New Products Shine at CeBIT 2010!
A New Generation of High Performance
(Taipei, Taiwan) The world's largest annual IT and telecommunications technology tradeshow, CeBIT, opens today (March 2) in Hannover, Germany! World-renowned IT product designer and manufacturer MSI became the first exhibitor to unveil its latest technology at a press conference yesterday (March 1). Leading MSI's participation in this annual event is President Joseph Hsu, whose company has adopted the theme "Performance?Sound?Vision" as the main focus for this year's R&D effort. The company is unveiling a variety of diversified product lines: 3D All-in-One desktop computers, top audiovisual gaming laptops, mainboards and graphics cards for gamers, high-performance industrial computers and servers to a stunned international media and audience!
With the effects of last year's financial turmoil fading away, the buoyant atmosphere at this year's CeBIT reflects the economic recovery. IT vendors from around the world are putting their latest and best products on display. Located at Exhibition Hall 17, Booth C38, MSI introduces a comprehensive lineup of products this year with its wide range of trend-setting and industry-leading products making it a focal point of the show. President Joseph Hsu says that MSI will keep with the spirit of his company's slogan "Insist on the Best" to meet market demand and to remain innovative. Therefore MSI is emphasizing the theme "Performance?Sound?Vision" as well as offering a number of innovative products.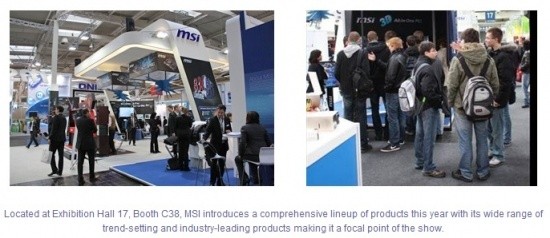 Top Honors for MSI All-in-One PC Won CeBIT Preview Award 2010!
MSI President Joseph Hsu says that the Wind Top AE2220 combines a stylish and aesthetic design with the latest technology. It has also garnered much praise from media present at CeBIT.
MSI's All-in-One PC shines bright at CeBIT 2010! With its innovative technology and extraordinary styling, the Wind Top AE2220 has won the prestigious CeBIT Preview Award for 2010. The CeBIT Preview Award is granted by a panel of 300 local German professional media organizations after reviewing the year's best products introduced at the tradeshow. The CeBIT Preview Award is widely regarded as objective recognition of product excellence. MSI's AIO Wind Top AE2220 is the only All-in-one touch-screen product to have been awarded this coveted prize! It boasts a large 22-inch multi-touch screen with Windows 7 and MSI's exclusively developed intuitive touch-screen software. With its 16:9 cinematic, Full HD 1080p ultra-high-resolution screen, brilliant video effects can be fully realized. Combined with the powerful Intel Core 2 Duo/Pentium processor and NVIDIA ION graphics processor, multitasking is a breeze. The model is also equipped with wireless Internet access, and through the touch of a single finger, users can enjoy powerful multimedia features or surf the Net. The Wind Top AE2220 combines a stylish and aesthetic design with the latest technology. It has also garnered much praise from media present at CeBIT, who all gave it a resounding thumbs-up. In addition, MSI's 3D All-in-One touch-screen technology was the focus of the show on opening day. With this new 3D touch-screen All-in-One PC, all a user needs to do is put on a pair of 3D glasses and touch the screen directly to experience immersive 3D images via the Full HD, 120Hz LED panel!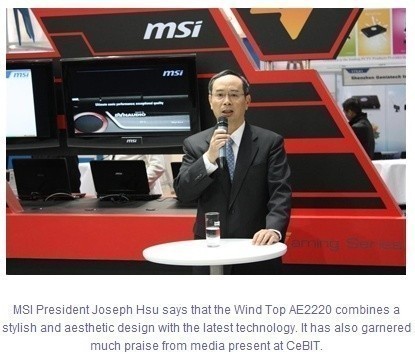 MSI President Joseph Hsu says that his company's laptops and All-in-One PC products have equal emphasis on both style and performance, and this is evident from the very warm response the company has received from consumers. "With both commercial and consumer dimensions, MSI is definitely the pioneer to promote All-in-One PC worldwide," said Joseph.
In addition to its star products, MSI is also introducing a full range of laptop models, the All-in-One PC Intel CoreTM series and the Green Wind Top series.
GT 660 Notebook, the Best Audio Experience
MSI has collaborated with top audio equipment manufacturer Dynaudio to unveil its GT660 laptop with built-in Dynaudio technology. "We are very happy to cooperate with MSI to show that sound can be much better in computers," said Wilfried Ehrenholz, CEO of Dynaudio International GmbH. GT660 displays the world's only built-in LED light show technology, allowing users to experience the highest level of enjoyment whether they are playing games, watching movies or listening to music. "We try to deliver the best audio experience to the users with this brand new notebook, and it is a very successful product which we are proud of," said Sam Chern, MSI Notebook Marketing Director.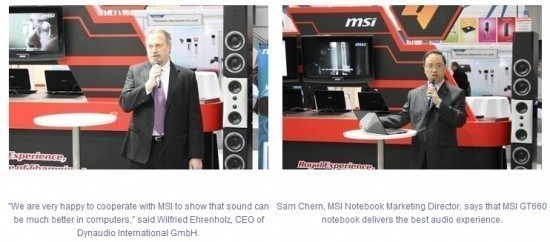 Besides, this year's theme "Performance?Sound?Vision" also symbolizes MSI's five major leading and innovative technical indicators of Notebook, which include their exclusive TDE overclocking and cooling technology, GPU Boost intelligent power management technology, Cinema Pro high quality imaging technology, outstanding audio technology, as well as award-winning and stylish ultra-light and slim designs. On display at the exhibition venue are the Wind U160 and the X-Slim X620, which have just won Germany's iF Design Award for 2010, both of which are ground breaking laptop products designed with both style and performance in mind.
The Ultimate in Performance! Big Bang Series Mainboards Now Invading the Gaming Market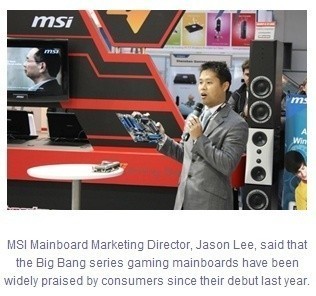 MSI Mainboard Marketing Director Jason Lee said that the Big Bang series of mainboards have been designed exclusively for the gaming market, and have been widely praised by consumers since their debut at the end of last year. The product that has received the most attention is the Big Bang-Fuzion mainboard, which is equipped with an exclusive Hydra Engine graphics chip developed by Israeli developer Lucidlogix. Gamers are no longer limited by specific manufacturers or graphics chips and will be able to use the Hydra Technology to upgrade their systems easily. To show how MSI has adopted its strategic "Performance?Sound?Vision" product development strategy, the Big Bang series of mainboards are equipped with exclusive THX TruStudio PC and Creative EAX ADVANCED HD 5.0 audio technology, capable of offering full 3D audiovisual effects.
Also on display in MSI's graphics card product line at the exhibition is the company's top video card product, the R5870 Lightning, which boasts the highest performance and unmatched specifications on the market. "Lightning currently is the world record of overclocking and is the best graphic card in the world," said Jason Lee. In addition, the highly acclaimed Afterburner multi-purpose overclocking software that was introduced last year has been updated for this year's CeBIT, together with the well-received Twin Frozr II dual-fan cooling unit. Jason Lee says that these products have taken into consideration hardware, software and cooling designs, indicating that MSI is once again creating an all-new graphics card performance benchmark for the industry.
MSI will be located at Exhibition Hall 17, Booth C38 for five days, from March 2 to March 6. In order to give vendors and the general public the chance to experience this high-tech audiovisual extravaganza, MSI has taken the opportunity to set up a special booth which includes gaming laptops and the Big Bang mainboards. MSI has also invited Fnatic, Europe's best gaming team, to do battle at CeBIT! For more information and an online display of MSI's latest products, please visit the special event webpage for CeBIT 2010 at: http://event.msi.com/cebit_2010.
Last updated: Apr 7, 2020 at 12:01 pm CDT
PRICING: You can find products similar to this one for sale below.

United States: Find other tech and computer products like this over at Amazon.com

United Kingdom: Find other tech and computer products like this over at Amazon.co.uk

Australia: Find other tech and computer products like this over at Amazon.com.au

Canada: Find other tech and computer products like this over at Amazon.ca

Deutschland: Finde andere Technik- und Computerprodukte wie dieses auf Amazon.de
Related Tags