MSI - Integrating Frequency/Voltage Adjustment and Burn-in Test Features
Exceed Graphics Card's Performance Limit with MSI Afterburner Overclocking Utility
Taipei-Taiwan-CeBIT, the upcoming global computer tradeshow, will run from March 2 to March 6 in Hannover, Germany. A number of innovative technologies and new products from MSI, the world-renowned graphics card and mainboard manufacturer, will be on display at the show. As MSI's exclusive highly-praised Afterburner overclocking utility, it integrates not only GPU/Memory clock adjustment but also the unique GPU voltage regulation to MSI graphics card, and after the latest v1.5.0 edition, in conjunction with FurMark, using OpenGL 3.2 as a foundation, MSI developed built-in Kombustor burn-in test that provides overclockers with the ability to perform complete overclocking trial with a single software solution.

One-click overclocking
Who said overclocking needs to be difficult?? With MSI Afterburner Overclocking Utility, just move your mouse cursor in the Windows and click to easily adjust ATI and nVIDIA Core, Shader, and Memory clocks. Also, current mainstream MSI graphics cards, such as the R5000 and N240 series all support MSI's exclusive voltage adjustment, increasing the fun of overclocking. Paired with the Lightning series, a winner of countless awards, overclocking performance is enhanced even more for smoother experience in games with higher loads. According to benchmark results for the N275GTX Lightning, overclocking with Afterburner can reach an amazing 1175MHz-up to 85% overclocking capability. Afterburner also allows users to determine higher cooling efficiency or quieter operation based on personal preference or hardware configuration. What's more, the specially-configured heat dissipating design of Twin Frozr and Cyclone further highlights Afterburner's performance.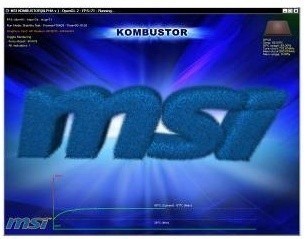 Integrated burn-in test; one utility to master overclocking
MSI's Afterburner possesses powerful overclocking, adjusting, and monitoring functions that have received a tremendous market reaction and spurred enthusiastic discussions and applications. However, to allow overclocking under stable conditions, MSI has formed a special technology partnership with FurMark using OpenGL 3.2 as the technology foundation in creating Kombustor burn-in test. After tweaking voltage and fan settings, an overclocker simply presses the Kombustor button to initiate burn-in test, or customizes detail settings to make it more precise. Afterburner integrates all of the necessary software for overclocking, eliminating the need to worry about overclocking stability as well as the need to use several types of software to carry out an overclocking trial.
Multiple functions; free downloads
Besides adjusting voltage and fan speed, MSI Afterburner also provides a comprehensive monitoring mechanism that offers on-demand information for making fine-tuning, five profiles that utilize hotkeys to adjust settings, and the ability to switch displays or language settings. Of course, the most important aspect of the new Afterburner for users is still can be downloaded for free from the Afterburner Official Website (http://event.msi.com/vga/afterburner/). Users who purchase an MSI graphics card can instantly enjoy the overclocking performance and tweaking fun that Afterburner provides.
Last updated: Apr 7, 2020 at 12:01 pm CDT