Corsair® Launches New Ultra-High Speed, High Capacity USB Flash Drives
- Innovative quad-channel architecture enables speeds of up to 34 MB/s on USB2 -
Hannover, Germany. March 2, 2010 - Corsair, a worldwide leader in high-performance computer memory, power supplies and flash memory products, including solid-state drives, today announced the Flash Voyager® GTR family of USB flash drives. These USB flash drives feature outstanding speed in a variety of densities.
The quad-channel architecture employed by the Flash Voyager GTR series delivers read speeds up to 34MB/s and write speeds up to 28MB/s, approaching the maximum transfer rates supported by the USB 2.0 interface. The outstanding performance numbers translate into genuine, real-world results. In the Corsair Labs, using a typical Windows 7-based PC, the Flash Voyager GTR 128GB was tested head-to-head against a 128GB USB drive from one of the world's largest suppliers of UFDs. For the first test, a folder containing 8,125 MP3 files was copied to the Flash Voyager GTR in only 39 minutes, while the competitor took over 66 minutes to complete the same task. The second test copied a documents folder containing 37,000 small DOC files, which took just 6 minutes on the Flash Voyager GTR versus more than 37 minutes on the competitor's USB flash drive. Details of this testing can be found
here
.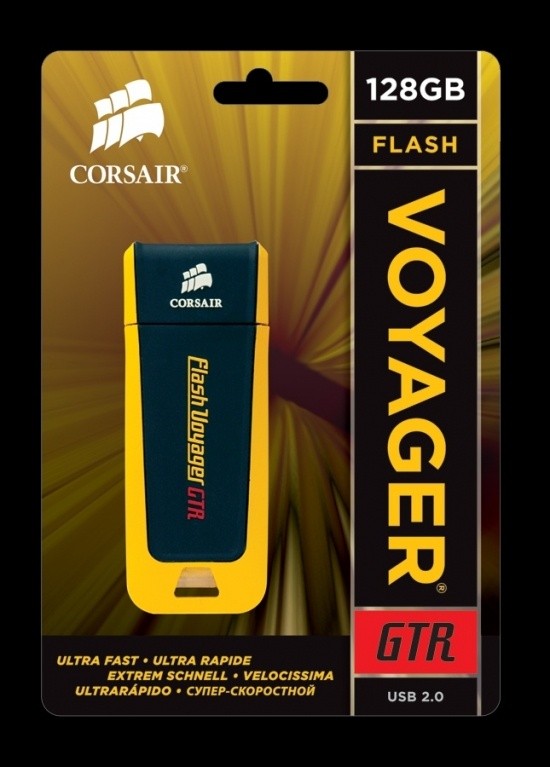 "As we continue to digitize the sights, sounds, movies, and business of our everyday lives, we need better and better ability to transport our data and access it quickly," stated John Beekley, VP of Technical Marketing at Corsair. "The Flash Voyager GTR combines the best features of a USB flash drive and the performance of an external hard drive to provide the ultimate data portability tool."
The Flash Voyager GTR drives will be available in densities of 32GB, 64GB, and 128GB. They feature a durable and water-resistant rubber housing to protect the drive against accidental damage.
The Flash Voyager GTR series is available immediately from Corsair's authorized distributors and resellers worldwide, and is backed by a 10-Year Limited Warranty. Complete customer support via telephone, email, forum and Tech Support Express is also available.
For more information on Corsair USB flash drives, please visit
www.corsair.com/products/voyager
.
About Corsair
Founded in 1994, Corsair specializes in premium, high-performance peripherals and components for personal computers. Corsair's award-winning products are the delight of the world's most demanding hardware enthusiasts. For more information, visit www.corsair.com.
Last updated: Apr 7, 2020 at 12:01 pm CDT