GIGABYTE Launches First AMD 6 Core CPU-ready Motherboard
Storage Powerhouse GA-890GPA-UD3H Features Native SATA 3.0 (6Gbps), USB 3.0 and USB 3x Power Boost
City of Industry, CA., March 2, 2010 - GIGABYTE TECHNOLOGY Co., Ltd, a leading manufacturer of motherboards, graphics cards and other computing hardware solutions today proudly launched their latest AMD AM3 Socket GA-890GPA-UD3H motherboard, delivering loads of performance enhancing bandwidth for applications such as high end gaming and high speed data transfer on systems featuring new AMD 6 core CPUs.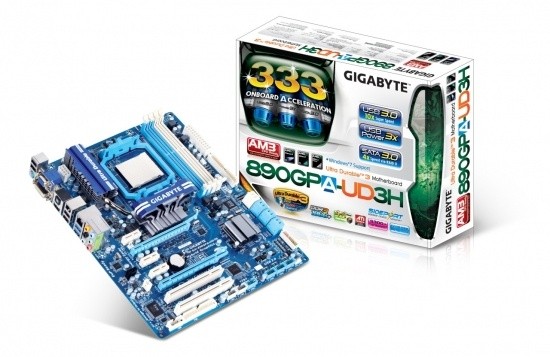 The first motherboard featuring the AMD 890GX chipset paired with the all new SB850 South Bridge, the GIGABYTE GA-890GPA-UD3H offers the industry's first native support for Serial ATA 6Gbps for up to 6 devices. The AMD SB850 also offers the industry's first Serial ATA 6 Gbps RAID support, allowing users to configure RAID 0,1,5 and 10 for maximum data performance or enhanced data backup. Also equipped with GIGABYTE 3x USB Power Boost and USB 3.0 support by utilizing the industry-leading NEC® controller, the GIGABYTE GA-890GPA-UD3H ensures users are ready to take advantage the next wave of high speed data transfer and storage technologies.
"Giving users power over their high definition content is really at the heart of what the GIGABYTE GA-890GPA-UD3H is all about," commented Tim Handley, Deputy Director of Motherboard Marketing at GIGABYTE Technology Co. Ltd. "Not only does the GA-890GPA-UD3H deliver the industry's highest performing integrated graphics solution with flawless HD video playback, but enabling SATA 6 Gbps with RAID functionality, USB 3.0 support and GIGABYTE 3x Power Boost means that users are able to spend less time waiting for their content to transfer, and more time to actually enjoy it."
The GIGABYTE GA-890GPA-UD3H also features the integrated ATI Radeon™ HD 4290 IGP (Integrated Graphics Processor) with DirectX 10.1 support and 128M DDR3 sideport memory, allowing for easy overclock of the default 700MHz GPU clock up to 1150MHz for a 3DMark06 score of 3300 or above, which is 18% higher than the previous generation AMD 790GX chipset and higher than any other IGP platform. The graphics potential of the board is further extended with the addition of two PCI-E 2.0 x16 graphics slots, allowing users to run ATI CrossFireX™ (running at x8,x8), or a single card at x16 including the next generation DirectX 11 graphics cards for some ATI Hybrid CrossFireX™ action, providing an enhanced level of gaming performance, productivity and platform power efficiency.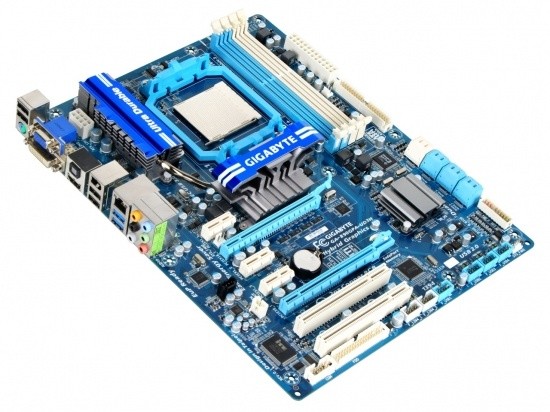 USB 3.0 Support
The GIGABYTE GA-890GPA-UD3H motherboard supports the latest generation SuperSpeed USB 3.0 technology made possible through an onboard NEC uPD720200 host controller. With superfast transfer rates of up to 5 Gbps, users are able to experience an almost a 10x improvement over USB 2.0. Additionally, backwards compatibility with USB 2.0 assures users of long term use of their legacy USB 2.0 devices. The onboard NEC SuperSpeed USB 3.0 technology also provides new power management features that include increased maximum bus power and device current draw to better accommodate power-hungry devices.
3x USB Power Boost
The GIGABYTE GA-890GPA-UD3H motherboard features a 3x USB power boost, delivering greater compatibility and extra power for USB devices. GIGABYTE's unique USB power design is also able to efficiently regulate output over the full voltage range, which greatly enhances USB device compatibility. In addition, dedicated lower resistance fuses ensure lower voltage drops, and provide more stable and plentiful power delivery.
SATA 6 Gbps Support
Yet another onboard feature of the GIGABYTE GA-890GPA-UD3H motherboard is its high-speed SATA Revision 3.0 compatibility, delivering superfast 6Gbps link speeds for twice the data transfer rates of SATA Revision 2.0 (3 Gbps). When used in RAID mode, the GIGABYTE GA-890GPA-UD3H motherboard offers even faster data transfer rates compared to older SATA interfaces.
More information about the GIGABYTE GA-890GPA-UD3H motherboard and other GIGABYTE USB 3.0 motherboards is available from
http://www.gigabyte.com.tw/Products/Motherboard/Products_Overview.aspx?ProductID=3342
and www.usb3motherboard.com.
About GIGABYTE Upgrade Your Life
GIGABYTE, headquartered in Taipei, Taiwan, is known as a global leading brand in the IT industry, with employees and business channels in almost every country. Founded in 1986, GIGABYTE started as a research and development team and has since taken the lead in the world's motherboard market. On top of motherboards and graphics accelerators, GIGABYTE further expanded its product portfolio to include notebook and desktop PCs, digital home entertainment appliances, networking servers, communications, mobile and handheld devices, servicing every facet of people's lives at home or business. Everyday GIGABYTE aims to "Upgrade Your Life" with the most innovative designs and impeccable quality and services. Visit www.gigabyte.com.tw for more information.
Last updated: Apr 7, 2020 at 12:01 pm CDT