Silicon Power-a Growing, Flying Butterfly to 2010 CeBIT Hannover, Germany
Exhibition Theme: USB 3.0 Concept and SDXC Card
<2010.3.2-Taipei, Taiwan> World class flash memory module manufacturer, Silicon Power is attending one of the three international computer exhibitions, CeBIT, in Hannover, Germany. Silicon Power, this year, announces to expand its exhibition scales and utilize "butterfly" as the exhibition theme design, symbolizing that Silicon Power is flying to the global stage as a molting butterfly.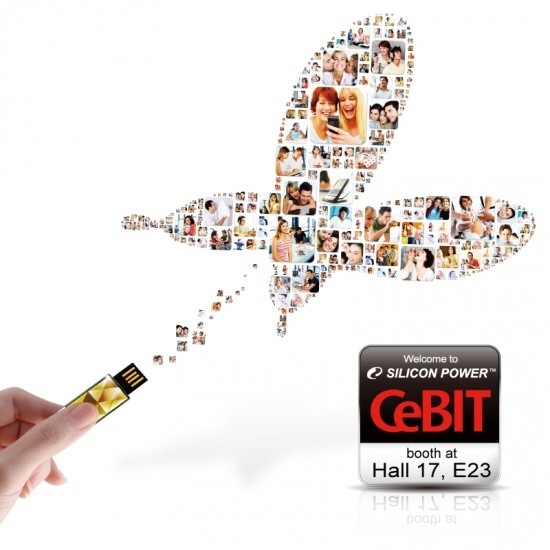 Silicon Power's main presentation in 2010 CeBIT includes the most popular USB 3.0 related products which were presented in early 2010 at CES and SDXC memory cards to provide higher quality, larger capacity and speedy transfer rate for users to enjoy more entertainment and storage volume. Silicon Power expects to attract purchasers around the world by the latest and coolest product concept and design, and the whole product lines. This exhibition will definitely be a good start for Silicon Power in 2010.
Accompanying with the most popular and brand-new concept, USB 3.0, Silicon Power is offering its latest products of USB 3.0- USB Flash Drive and Hard Disk Drive. Silicon Power maps out a dynamic exhibition area to present a large progression of USB 3.0 series products in transfer speed in order to impress buyers and media from the real motion experiences.
Silicon Power will also demonstrate all series of products, especially latest popular products, Helios 101 Series USB Flash Drive with an extraterrestrial aura feel and finger-print proof design, and LuxMini 320 and 322 with polished surface and electroplating treatment along the edges for fashion users requiring high quality and modern design.
Not only most popular SDXC memory cards, but also speedy 400X Compact Flash (CF) card with 128GB of storage capacity will be demonstrated in CeBIT exhibition. Silicon Power's 400X 128GB CF card supports PIO Mode-6 and Multi-Word DMA 4 transfer mode in quad-channel configuration. It is faster and more stable for professional photography applications to capture full-resolution raw data in fractions of a second.
Silicon Power, this year 2010, is presenting the full product lines that are of quality, fashion and technologically advanced, and release the whole-new 2010 products in CeBIT Hannover, Germany, from March 2nd to March 6th. Welcome to Silicon Power booth at Hall 17, E23.
About Silicon Power
Silicon Power Computer & Communications Inc., founded by a group of specialists with more than 20 years experience in the field of international trading, global marketing, technical know-how of flash data storage products, is the world's leading manufacturer of flash memory cards, USB flash drives, DRAMS, and card readers. We are also the initiator to offer Lifetime Warranty service both for the Flash Memory Card series and USB Flash Drive products. At the heart of Silicon Power, it exists a strong atmosphere of "Sharing, Caring, and of being Trustworthy." These are our finest commitments at the core. Recognized and supported in over 90 countries, Silicon Power provides fast, international lifetime service and superior products. Silicon Power makes a remarkable and successful achievement in the global community. The company is headquartered in Taipei and has established branches worldwide including the Netherlands and Japan.
Last updated: Apr 7, 2020 at 12:01 pm CDT