MSI launches new energy-saving, low-noise, 2L mini-PCs with outstanding entertainment capabilities Wind Box DE220 and Wind Box DC220
Wed, Feb 24 2010 11:49 PM CST
MSI launches new energy-saving, low-noise, 2L mini-PCs with outstanding entertainment capabilities Wind Box DE220 and Wind Box DC220
Ultra-Low Energy Consumption, Ultra-Effective Noise Reduction, Ultra-Mini Size, Ultra-Exciting Entertainment
(February 2, 2009) Taipei - MSI, the global leading brand in All-in-One PC, today announced the launch of two new energy-saving, low-noise, entertainment-oriented models in MSI's Wind Box mini-PC series: the Wind Box DE220 and Wind Box DC220. Using a 2L design, the Wind Box DE220 and DC220 have inherited the ultra-slim good looks of the earlier generation of A4-sized mini-PCs, but with the addition of improved energy-saving and noise reduction capabilities. The two mini-PCs use the latest Intel Pine Trail platform, which provides energy consumption around 90% lower than that of a conventional desktop PC. This, plus their outstanding noise reduction performance (under 24dB), makes them ideal for continuous use over long periods of time. The Wind Box DE220 and DC220 can be attached to the back of any LCD monitor (or even an LCD TV) to create a space-saving "All-in-One PC." The Wind Box DE220 also features an ATI Radeon HD 4300 graphics processor and HDMI output, ensuring outstanding performance for both high-definition video content viewing and 3D gaming. Products in the Wind Box series all use environmentally-friendly coating materials; both the Wind Box DE220 and the DC220 conform to the new EuP (Energy using Products) environmental directive that is being introduced by the European Union in 2010. Combined with their low energy consumption, this makes both Wind Box models first-class examples of environmentally-friendly products.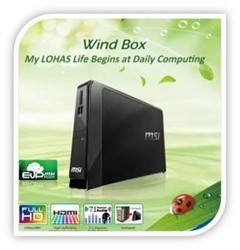 Low power consumption and noise reduction for maximum user comfort
The Wind Box DE220 and DC220 use the Intel Pine Trail platform, with the latest AtomTM D510 dual-core or D410 single-core CPU. This makes for a significant reduction in electricity consumption; average power consumption is 90% less than that required by a typical desktop PC, and 50% lower than the power consumption of the first-generation AtomTM CPUs. Extensive testing has shown that the energy consumption of the Wind Box DE220 and DC220 is actually lower than that of most energy-saving light-bulbs, and about the same as a fluorescent bulb. In addition, using MSI's unique noise reduction technology, the positioning of the system components, the fan and the direction of air-flow have been adjusted to reduce overall system noise to under 24dB. The DE220 and DC220 are incredibly quiet; if you have one in your bedroom, you can fall asleep without being disturbed by the noise from the mini-PC. With its combination of low energy consumption and low noise, the Wind Box DE220 and DC220 are ideal for home use, for use in situations where the PC needs to be kept on for an extended period, and also for use in libraries or offices where users are expected to keep the noise level down.
Environmentally-friendly design
Maintaining the commitment to the use of environmentally-friendly materials that has characterized all of the Wind Box mini-PCs, the DE220 and DC220 both use coating materials that have no harmful ingredients, and neither of them uses difficult-to-recycle plastic coating; this reflects MSI's determination to play its part in protecting the environment. With average energy consumption that is roughly equivalent to a fluorescent light bulb, and 90% lower than that of a typical desktop PC, the DE220 and DC220 provide annual savings in electricity consumption of around 2,365 kWh (equivalent to reducing annual carbon dioxide emissions by 1.8 tons). From the point of view of reducing greenhouse gas emissions and protecting the environment, choosing the Wind Box DE220 or DC220 is an easy, effective way of putting your ideals into practice. The Wind Box DE220 and DC220 have secured Energy Star certification in the U.S.; they also conform to the requirements of the new European Union EuP (Energy using Product) environmental directive, which will come into effect in 2010 (the EuP imposes new standards for power consumption, energy efficiency, noise reduction, fan noise and temperature control, and the permitted percentages of toxic materials).

Comprehensive audiovisual and entertainment functions
The Wind Box DE220 features a built-in ATI Radeon HD 4300 series graphics processor, ensuring outstanding audiovisual entertainment performance. The ATI Radeon HD4300 supports Full-HD 1080p video playback; its unique Ultimate Visual ExperienceTM technology eases the pressure that decoding HD video signals puts on the CPU, enabling users to switch on other applications at the same time as they are watching HD video or playing 3D games. The Wind Box DE220 is also equipped with HDMI output connectors, making it possible to connect the DE220 to a large, full-HD display for viewing HD video content or playing 3D games, while still enjoying outstandingly bright and crisp image quality. Both the Wind Box DE220 and Wind Box DC220 come with Microsoft's latest Windows 7 operating system installed; this highly intuitive operating system provides a brand-new user experience.
Compact, lightweight and convenient to use
The Wind Box DE220/DC220 is a 2L mini-PC, about the same size as a sheet of A4 paper. Placed on an office desk or on a table at home, it occupies about the same amount of space as an A4 document folder, taking up hardly any room at all. Both the DE220 and DC220 can be attached easily to the back of an LCD monitor or LCD TV, transforming the monitor or TV into an All-in-One PC. With this capability, users can turn their TV into a complete home entertainment center that combines TV, gaming and video playback functions, making the Wind Box DE220/DC220 ideal for people who want to save space while also benefitting from multi-functionality. The Wind Box DE220/DC220 weighs just 2 kg, making it easy to carry and move around, and to switch from one display to another. This streamlined "portable desktop PC" combines the performance of a desktop PC with the mobility of a laptop.
Color scheme:
chic black, marine blue
SPECIFICATIONS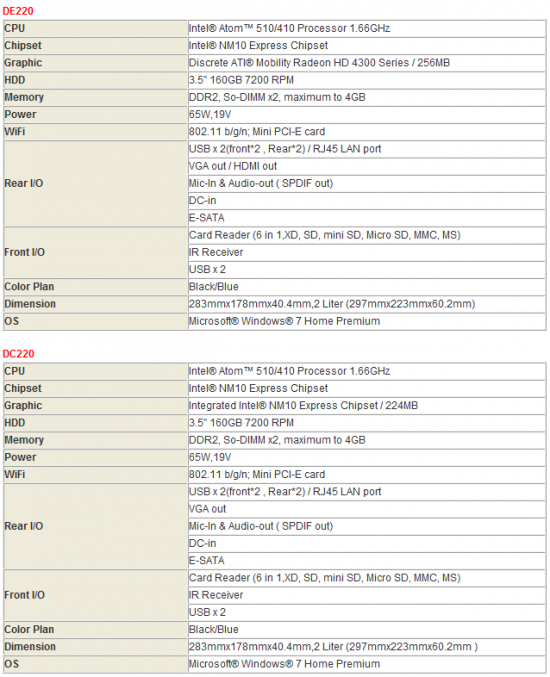 Last updated: Apr 7, 2020 at 12:01 pm CDT
PRICING: You can find products similar to this one for sale below.

United States: Find other tech and computer products like this over at Amazon.com

United Kingdom: Find other tech and computer products like this over at Amazon.co.uk

Australia: Find other tech and computer products like this over at Amazon.com.au

Canada: Find other tech and computer products like this over at Amazon.ca

Deutschland: Finde andere Technik- und Computerprodukte wie dieses auf Amazon.de
Related Tags