CeBIT 2010: MSI Debuts an Array of Dazzling All-in-One PCs
Full HD 3D All-in-One PC, Intel® Core™ Series Models, LOHAS Business Computers, Hi-end Audio All-in-One PC models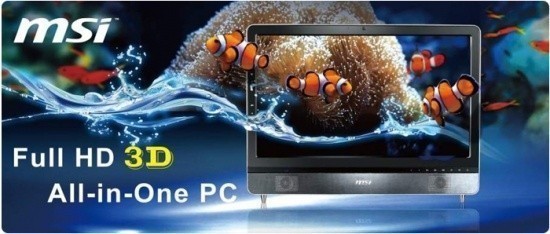 [Taipei - Taiwan] MSI, a global leading brand in All-in-One PC, continues to come up with technological innovations and keep up with fashion trends. Beginning on March 3, 2010, at CeBIT, MSI will display a series of extreme performance All-in-One PCs featuring the newest Intel® Core™ processor and a full HD, hi-fi, home theatre PC. The various large-screen All-in-One PCs to be exhibited all possess industry-leading performance specifications and audio/video entertainment functions. MSI will also reveal the world's first large-sized 3D All-in-One PC with powerful computing capabilities. A 120Hz LED panel and Shutter Glass 3D glasses produce flawless and highly detailed 3D images. MSI's Wind Series PCs, including the Wind Top All-in-One PCs, Wind Box Mini-PCs, all share the same design objectives of energy conservation and reduced power consumption. MSI will also feature a series of LOHAS models at CeBIT to show that energy efficiency and earth-friendly solutions begin with choosing the right computers.
Spectacular 3D image presentation
MSI has become the first company in the world to introduce an All-in-One PC with a 3D touch-screen. Taking advantage of recent advances in 3D imaging technology, MSI has integrated 3D display technology with a powerful CPU to ensure smooth, clear 3D images and a higher level of detail. The combination of 120Hz LED panel and Shutter Glass 3D glasses brings the kind of 3D video experience that you would normally only get in the movie theater right into your home. Put on the 3D glasses and touch the screen with your fingertip, and the beautiful scenery of the planet Pandora from the movie Avatar will appear right in front of you, almost as if you could reach out and touch it.
MSI's All-in-One PCs use the latest Intel® Core™ processor, ensuring an outstanding level of performance
Besides its ultra-cool 3D All-in-One models, MSI has also been showcasing the new high-performance Wind Top AE2420 and AE2280 All-in-One PCs, 22- and 24-inch models that are equipped with the latest Intel® Core (Core i3/i5/i7) processors (released in 2010), as well as Intel's Turbo Boost technology, which automatically adjusts the processor frequency, ensuring maximum performance for each type of application while also saving energy. With a multi-touch display and high-performance CPU, MSI's Wind Top All-in-One PCs combine smooth, streamlined looks with raw power; these new models are set to make traditional desktop PCs a thing of the past.
Environmentally-friendly designs that are also ideal for business users
Targeting the business user market, MSI has launched the environmentally-friendly Wind Top AP1920 and AE1920 19- and 20-inch All-in-One PCs, as well as the Hetis/DC520/DE220 10L, 4.7L and 2L Mini-PCs, which also feature "green" design. Responding to the global trend towards carbon reduction and energy conservation, all of these MSI products have secured U.S. Energy Star certification; they also conform to the European Union's new EuP (Energy using Product) environmental directive that will be coming into effect in 2010. The average hourly electricity consumption of these devices is more than 90% lower than that of a traditional 300W PC; this represents a massive saving on energy. These MSI products also use coating materials that are free from harmful substances, and packaging material which is 80% recyclable. Business enterprises that opt for these MSI devices can not only make substantial savings on energy consumption, they can also make a meaningful contribution towards protecting the environment.
Hi-Fi audio technology with an outstanding pedigree
MSI strives to ensure that its All-in-One PCs provide the best possible sound quality. MSI has become the first company to provide high-quality speakers built into its 22-inch and 24-inch models. MSI's unique Premium Sound Technology adjusts sound output so that, when you are watching a movie in 1080p Full-HD video, you can also enjoy outstanding sound quality. The MSI Wind Top AE2280, AE2260 and AE2220 Hi-Fi are equipped with two 5W Hi-Fi speakers, while the 24-inch AE2400 and AE2420 feature 10W strong-bass speakers. All of these models provide excellent reproduction across the low, medium and high ranges, ensuring that, while you are using your PC, you can also enjoy a marvelous listening experience.
Beautifully decorated PC chassis designs that are full of character
Having already rolled out a series of All-in-One PC designs that feature a range of advanced technologies, MSI has now added several new, beautifully colored models to its All-in-One PC range. Who says a desktop PC has to look boring? Besides making its All-in-One PCs slim and streamlined, MSI has also introduced attractive All-in-One PC designs with color schemes designed to suit the personality of the individual user. The addition of a personal touch to fashionable PC design makes these All-in-One PC models even more eye-catching than usual! MSI's CeBIT exhibit will display All-in-One PC models the most wide-ranging sizes, with 18.5", 19.5", 21.5" and 23.5" designs. Featuring various specifications and configurations to meet the needs of different markets, MSI has the fullest range of sizes among All-in-One PC brands, and with the company's technological breakthroughs and innovation, there's a lot more to look forward to.
For detailed product specifications, visit the MSI exhibit at CeBIT (Hall 17|C) or refer to MSI's official website www.msi.com for more details.
For online exhibition of MSI CeBIT 2010, please visit http://event.msi.com/cebit_2010
Last updated: Apr 7, 2020 at 12:01 pm CDT