HABEY USA BIS-6620 Ultra-compact Ultra-low-power 1080p HD Video Playback Capable Fanless PC with bolt-on VESA mount design
LOS ANGELES, CALIFORNIA - February 19, 2010 -- HABEY USA, a leading manufacturer of embedded computer and server storage products, today announces BIS-6620, an ultra-compact fanless and noiseless PC platform based on the Intel Atom Z510 processor is available for sale through major online retailers for $299. First released to OEMs of the digital signage market last August, the BIS-6620 made its debut to general public at CES 2010 earlier this year.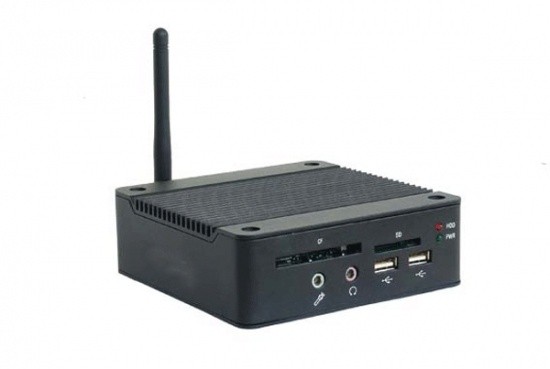 At just 4.5" x 4.5" x 1.5", this quiet, tiny-but-mighty Atom platform is packed with features you can imagine: Intel US15W chipset with GMA 500 graphic capable of full 1080p HD hardware decoding, one DDR2 SODIMM slot supporting up to 2GB of RAM, one 1.8" SATA HDD or SSD drive bay with micro-SATA connection, one hot-swap internal standard SATA-II port for expansion, four external plus one internal USB2.0 ports, VGA (BIS-6620-I model) or DVI-D (BIS-6620-II model) output up to 1920 x 1080, S-Video/YPbPr out, PS/2 keyboard/mouse port, built-in CF socket and SD reader, four COM ports with one selectable as RS-232/422/485 (BIS-6620-II model), High Definition audio, one Gigabit Ethernet port, WiFi option, 12V DC power input and support for Microsoft Windows XP Embedded, Windows XP, Windows Vista and Windows 7, Linux and future Windows Embedded Standard 7 operating systems.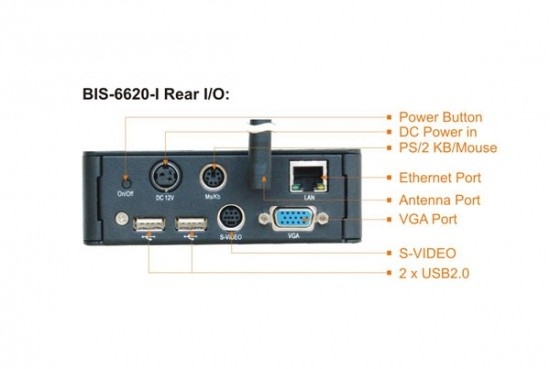 The BIS-6620 is developed around Intel's most power-efficient Atom Z510 and Z530 processors plus US15W chipset with less than 5W power consumption. Its integrated GMA500 graphic supports 2D, 3D and advanced 3D graphics and full hardware acceleration of H.264, MPEG2, VC1, and WMV9 up to 1080p, eliminating the need for software decode and off-loading the processor. The unique fanless enclosure design includes Bolt-Thru holes for VESA mount standard; make it easier to mount on flat panel monitors, TVs, and other displays on stands or wall mounts without extra bracket.
The BIS-6620's industrial grade embedded board, SSD (solid-state drive) support and ultra-compact fanless enclosure design make it perfect for full HD media player applications, kiosk, proximity, digital signage, POS, thin-client and "build your own embedded system" applications.
Watch this video:
http://www.youtube.com/watch?v=gzpaJ6RFdCo
Pictures, links and datasheet link:
http://www.habeyusa.com/EDM/2-19-2010_Habey_BIS-6620_EPR.html
Online retailer links:
http://www.newegg.com/Product/Product.aspx?Item=N82E16859324001&Tpk=bis-6620
https://www.amazon.com/BIS-6620-I-Ultra-compact-Intel-based-Fanless/dp/B002W7SK56
Key Features:
- Ultra-compact for space-constrained applications
- VESA mount ready for easy installation and mounting
- Low power consumption and fanless design
- Supports full high-definition video hardware decoding
- Extended operating temperature
- Supports SATA , SD , CF storage options
- Four Serial Ports with one RS-485 on selected model
- Supports Windows, Windows Embedded & Linux Applications
Applications:
- Digital signage HD media player
- Consumer Set-Top-Box/network media player
- Kiosk, interactive signage
- High-definition media center PC
- Multimedia presentation
- Automobile PC
- Thin client PC
Specifications:
Processor: Intel® Atom™ Z510 or Z530 processor
Chipset: Intel US15W chipset with GMA500 graphic
RAM: One DDR2 SO-DIMM Socket, up to 2GB
SATA: One standard SATA II port, one micro SATA II port, SSD Support
IDE: One IDE CF socket, one SD reader
USB: Four USB 2.0 ports (BIS-6620-I)
Serial Port: Four COM ports (BIS-6620-II), one selectable as RS-232/422/485
Video: One VGA (BIS-6620-I), one DVI-D (BIS-6620-II), one S-Video/TV-out/YPbPr
Ethernet: One Gigabit Ethernet port
Hardware decoder video format support via Intel GMA500:
H.264, MPEG2, VC1, and WMV9 up to 1080p
Power: 12V DC
Operating Temperature: -10°C - 50 °C
Dimensions: 4.5" x 4.5" x 1.5" (W x D x H)
Last updated: Jul 27, 2022 at 03:47 am CDT