NVIDIA Reports Financial Results for Fourth Quarter and Fiscal Year 2010
• Revenue rose 9 percent quarter-on-quarter to $982.5 million
• GAAP net income of $131.1 million, or $0.23 per diluted share
• GAAP gross margin of 44.7 percent
NVIDIA Corp. (NASDAQ: NVDA) today reported revenue of $982.5 million for the fourth quarter of fiscal 2010 ended Jan. 31, 2010, up 9 percent from the previous quarter and more than double the $481.1 million reported in the same period a year earlier. For the full fiscal year, revenue was $3.3 billion compared with $3.4 billion for the fiscal year ended Jan. 25, 2009, a decrease of 3 percent.
On a GAAP basis, the company recorded net income of $131.1 million, or $0.23 per diluted share, for the fourth quarter of fiscal 2010, compared with a GAAP net loss of $147.7 million, or $0.27 per share, in the same period a year earlier. GAAP net loss for the fiscal year ended Jan. 31, 2010 was $68.0 million, or $0.12 per share, compared with a net loss of $30.0 million, or $0.05 per share, for the fiscal year ended Jan. 25, 2009.
Non-GAAP net income(1) for the fiscal year ending Jan. 31, 2010 was $141.4 million, or $0.26 per diluted share, compared with net income of $160.3 million, or $0.29 per diluted share, for the same period a year earlier.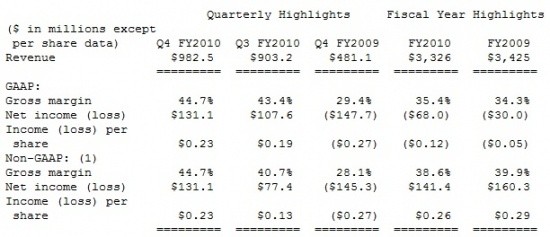 (1) Commencing with the fourth quarter, non-GAAP is now defined to include stock based compensation. As a result, stock-based compensation will no longer be a reconciling item between GAAP and non-GAAP measures. All historical non-GAAP measures presented here have been prepared on this basis.
"NVIDIA's business continued to accelerate in the fourth quarter, with strong demand in our PC and workstation markets," said Jen-Hsun Huang, NVIDIA's president and chief executive officer. "While the yield of chips made using the latest 40nm process has improved significantly, demand continues to exceed our constrained supply. Looking ahead this year, we are excited to raise the bar again with our next-generation Fermi GPU architecture; our Tegra mobile processor will enable a new class of amazing mobile devices like tablets; and our 3D Vision glasses and accompanying technology will bring a whole new dimension to personal computing."
Gross margin increased to 44.7 percent for the fourth quarter fiscal 2010 from 43.4 percent in the previous quarter and 29.4 percent in the same period a year earlier. The company's third quarter results included a non-recurring $25.1 million credit for insurance proceeds, of which $24.1 million was recorded as a benefit to cost of revenue. Excluding this benefit, fourth quarter non-GAAP gross margin improved 4.0 points sequentially to 44.7 percent from 40.7 percent.
Outlook
The outlook for the first quarter of fiscal 2011 is as follows: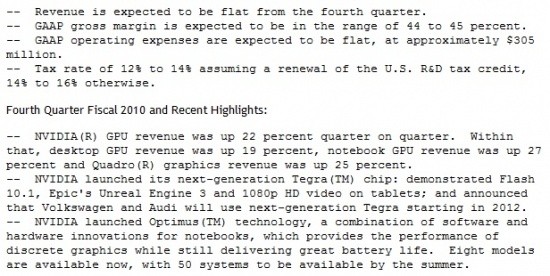 CFO Commentary
Commentary on the quarter by David White, NVIDIA's Chief Financial Officer and executive vice president, is available at www.nvidia.com/investor.
Conference Call and Web Cast Information NVIDIA will conduct a conference call with analysts and investors to discuss its fourth quarter fiscal 2010 and fiscal year 2010 financial results and current financial prospects today at 2:00 p.m. Pacific Time (5:00 p.m. Eastern Time). To listen to the call, please dial (212) 231-2901. A live Web cast (listen-only mode) of the conference call will be held at the NVIDIA investor relations Web site www.nvidia.com/ir and at www.streetevents.com. The Web cast will be recorded and available for replay until the company's conference call to discuss its financial results for its first quarter fiscal 2011.
For the full report summary, click
here
.
Last updated: Apr 7, 2020 at 12:01 pm CDT