Toshiba Introduces High-performance, Low-power, 600GB, 10K rpm, 2.5-inch HDD
Toshiba Introduces High-performance, Low-power, 600GB, 10K rpm, 2.5-inch HDD
Toshiba Corporation, the industry pioneer in small form factor hard disk drives (HDDs), today announced a new high-performance, low-power HDD product line for enterprise applications that draws on synergies achieved by the integration of Fujitsu Limited's enterprise-directed magnetic drive business into Toshiba HDD business.
The new MBF2600RC family brings 2.5-inch drives into the enterprise space, with no compromise in capacity or performance. The line-up features a 600GB drive, currently the industry's highest[1] capacity for 2.5-inch enterprise-class HDD, and rounds out the range with 300GB, and 450GB capacities, all offering maximum rotation speeds of over 10,000RPM.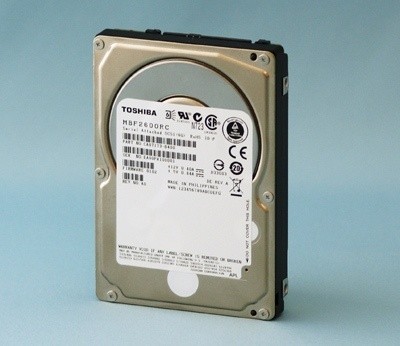 Improvements to the magnetic recording head and disk's magnetic layer gives the MBF2600RC an areal density of 595Mbit/mm2 (384Gbpsi), highest[1] areal density for 2.5-inch enterprise drives, and realizes 600GB capacity, the largest capacity yet available in the market including 3.5-inch drives. Combined with a rotation rate of over 10,000RPM, the line-up will meet the enterprise market's exacting standards with 2.5-inch form factor drives. Furthermore, the internal transfer rate in the MBF2600RC family is boosted by 13%, from 191.5MB/s to 216MB/s, compared with the previous generation MBD2300RC, due to improved linear recording density, and overall performance increased by realizing high speed seek time. The new drives also offer an optional drive-based encryption design that secures data when end of lease, during disposal and recycling. The range of storage capacities meets customer needs across a wide range of mission-critical IT equipment, from servers to large capacity storage systems.
The MBF2600RC family delivers significantly better environmental performance than MBD2300RC[2] 2.5-inch drives. Advances include power management enhancement that allows the disk to spin at a slower rate when not being addressed, and achieve a low-power consumption of 2.5W. MBF2600RC also contributes a 45% improvement in energy consumption efficiency[3] from the MBD2300RC. The MBF2600RC family is also compliant with the European Union's RoHS directive[4] and halogen-free[5].
Toshiba meets the growing demand for smaller, 2.5-inch HDD that consumes less power than 3.5-inch drives while offering high level processing speeds, lower heat generation and a smaller footprint. Meeting the 3.5-inch performance level in power efficient 2.5-inch form factor will allow Toshiba to further enhance its HDD business and to meet growing demand from enterprise applications.
Key Features
• The industry's largest recording density and capacity in a 2.5-inch HDD with a rotation speed of over 10,000 RPM (MBF2600RC): MBF2600RC improves the perpendicular magnetic recording technology head and disk to realize the industry's highest areal density of 595 Mbit/mm2 (384 Gbpsi) and a capacity of 600GB, the industry's largest for a 2.5-inch HDD with a rotation speed of over 10,000RPM.
• Improved high speed processing (MBF2600RC, MBF2450RC, MBF2300RC): The MBF2600RC family supports a 6Gb/s SAS interface data transfer rate and a 10,025 RPM rotation rate, a large capacity 16MB buffer memory and faster data processing than the MBD2300RC. Improved linear recording density boosts the internal data transfer rate by 13%.
• Smaller, lighter, low energy consumption compared to 3.5-inch HDD (MBF2600RC, MBF2450RC, MBF2300RC): Toshiba has realized smaller, lighter, and more power efficient products than the 3.5-inch HDD (over 10,000RPM) that are mainly used in servers. The MBF2600RC family delivers significant better environmental performance than the MBD2300RC generation of 2.5-inch HDD, including a 45% improvement in energy consumption efficiency. This is achieved by a new power condition state that spins the disk at a lower rate when the drive is to being addressed.
• Environmentally Conscious products
- Halogen-Free Product: The new drives achieve chlorine and bromine concentrations below 900ppm, and a combined overall total below 1,500ppm.
- Decreased CO2 amount during lifecycle[6] (MBF2600RC): MBF2600RC decreases CO2 emissions across the product lifecycle by 3kg per year, by cutting power consumption and environmental burdens from the raw materials stage.
- RoHS compliant: The new drives comply with the European Union's RoHS directive on the elimination of six hazardous substances in electrical and electronic equipment.
Toshiba Group, a corporate citizen of planet Earth, is committed to realizing a better environment. Guided by "Toshiba Group Environmental Vision 2050" the Group is implementing measures to boost environmental efficiency by 10 times in FY2050, against the benchmark of FY2000. The core target is to reduce projected CO2 emissions by a total equivalent to 117.7 million tons a year by FY2025, through the development and sales of highly efficient power supply equipment and systems, and the manufacture of environmentally conscious home appliances and office equipment. By working to mitigate global warming, make efficient use of resources and control management of chemicals, Toshiba Group creates value for people and promotes lifestyles in harmony with the Earth.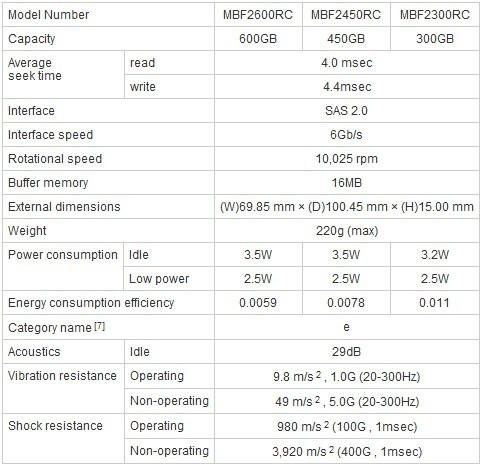 [1] As of Feb.17, 2010, for 2.5-inch HDD for enterprises with a over 10,000 RPM, source by Toshiba
[2] Compared to Fujitsu Limited's MBD2RC 300GB model, announced in Nov. 17, 2008
[3] Energy consumption efficiency is calculated based on power consumption divided by formatted capacity, as defined by Japanese law.
[4] The RoHS (Restriction of Hazardous Substances) directive, which came into effect on July 1, 2006 in the European Union, limits the use of various materials including lead, cadmium, mercury, hexavalent chromium, polybrominated biphenyls (PBB) and polybrominated diphenyl ether (PBDE) in electronic and electronic equipment.
[5] The new drives achieve chlorine and bromine concentrations below 900ppm, and a combined overall total below 1,500ppm, achieving the standard required for recognition.
[6] Comparison based on MAV2073RC(Year 2005 model). Based on Toshiba's evaluation method of LCA (Life Cycle Assesment).
[7] Category names defined by Japan's Ministry of Economy, Trade and Industry are applied in the Japanese market.
Last updated: Apr 7, 2020 at 12:01 pm CDT
PRICING: You can find products similar to this one for sale below.

United States: Find other tech and computer products like this over at Amazon.com

United Kingdom: Find other tech and computer products like this over at Amazon.co.uk

Australia: Find other tech and computer products like this over at Amazon.com.au

Canada: Find other tech and computer products like this over at Amazon.ca

Deutschland: Finde andere Technik- und Computerprodukte wie dieses auf Amazon.de
Related Tags