Transcend Launches JetFlash 620 USB Flash Drive, Offer 256-bit AES Encryption
Transcend Information, Inc. (Transcend), a worldwide leader in storage and multimedia products, announced the release of its JetFlash 620 USB flash drive. The JetFlash 620 features compact portability, fast transfer speeds and built-in 256-bit Advanced Encryption Standard (AES) security, making it ideal for carrying, storing and securing important digital files against unauthorized access.
The JetFlash 620 comes bundled with Transcend's exclusive JetFlash SecureDrive software that helps safeguard users' confidential data by creating a private, password-protected area on their JetFlash drive. Once enabled, nobody but the password owner will be able to see or access files stored within the secure Private Zone. For extra convenience and security, the JetFlash 620 also allows users to easily resize the Private Zone and frequently change their password, ensuring that their sensitive data never falls into the hands of hackers, nosy co-workers, curious family members or identity thieves.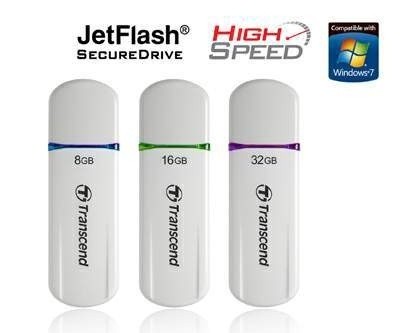 Thanks to its use of advanced dual-channel technology, the JetFlash 620 transfers data with ultra-fast read speeds of up to 32MB/sec and write speeds of up to 18 MB/sec. Additionally, the JetFlash 620 offers vast storage capacity (8GB to 32GB), providing more than enough space to store personal files, music, digital photos, business-related documents and presentations. As the JetFlash 620 combines high speed transfer rates and unbreakable password security in a lightweight contoured design, the stylish flash drive is a must-have storage device for users looking for fast, portable and secure data transfer.
The JetFlash 620 contains premium quality NAND Flash memory chips and comes with a lifetime warranty. For added value, users can download and install Transcend's free JetFlash Elite data management tools onto the JetFlash drive to enhance mobile productivity. The useful JetFlash Elite software can turn the flash drive into a key to automatically log on to website accounts, or even temporarily lock a computer to prevent unauthorized access. Users can also browse their favorite bookmarked websites and check their email from any compatible computer with the included Internet Favorites and Mobile Email functions.
Offering premium features at an affordable price, the JetFlash 620 is currently available in three capacities: 8GB, 16GB and 32GB.
Last updated: Apr 7, 2020 at 12:01 pm CDT