Sharkoon - Dual docking station for SATA hard drives now with USB3.0
Sharkoon SATA QuickPort Duo USB3.0: Dual docking station for SATA Hard Drives with USB3.0 ports / direct PC connection for two external supported SATA hard drives in 2.5" and 3.5" format / MSRP 59.90 euros
USB3.0 has seized the market. Since Sharkoon was the first provider to introduce a USB3.0 controller and equip the Sharkoon SATA QuickPort USB3.0 hard drive docking station with this terminal as a standard port, the accessory specialist now introduces a USB3.0 variant model to its popular QuickPort series: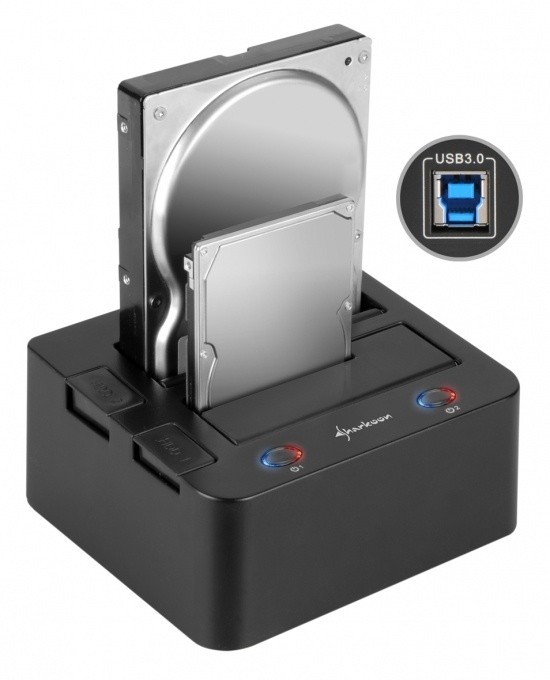 The Sharkoon QuickPort Duo is now available with SuperSpeed USB. Like the previous models of the QuickPort series, the QuickPort Duo offers convenient and direct access to SATA hard drives. However, the Duo model offers two chambers for SATA hard drives for both 2.5" and 3.5" formats in which two data medians of the same or different formats can be operated on the computer at the same time. The hard drives are simply plugged into the sturdy table adapter and instantly recognized by the computer as an accessible drive.
Both chambers possess a hinge mechanism, with suitable clearance for smaller notebook hard drives; a convenient eject button; and a separate power switch with two individual LEDs indicating hard drive operation and access - plus each contain a USB3.0 port for SuperSpeed data transfer rate to the computer. The Sharkoon QuickPort Duo USB3.0 measures 132 x 148 x 72mm (L x B x H); shipment also includes the power supply, instruction manual, and two USB3.0 cables approximately two meters in length.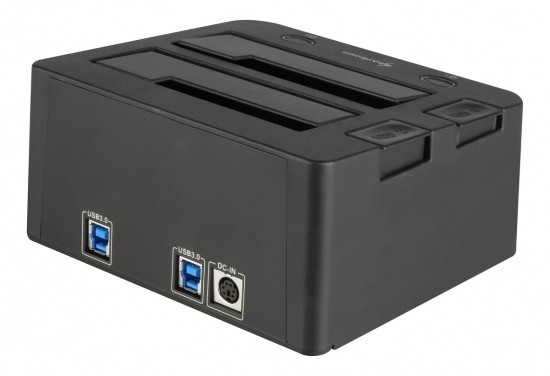 Both QuickPort USB3.0 models introduced so far have passed the functional and compatibility test conducted by the Motherboard manufacturer Gigabyte and bear the certificate "Compatible with Gigabyte USB3.0 Motherboards." In commitment to the market development of new interface standards, Gigabyte lists on their website all compatible USB3.0 devices of other providers.
(
http://www.gigabyte.com.tw/FileList/WebPage/mb_usb3mb/data/mb_usb3_devices.htm
)
End customers can obtain the Sharkoon SATA QuickPort Duo USB3.0 available immediately for the retail price of 59.90 euros from authorized retailers.
For further questions, to request samples and/or photos, or other information please contact us or go to www.sharkoon.com.
Other USB3.0 innovations will be shown by Sharkoon at this years CeBIT (2. - 6. 03. 2010): Visit us in the specialized Planet Reseller center, Hall 14/15, Stand F44.
Last updated: Apr 7, 2020 at 12:01 pm CDT