Walton Chaintech Introduces the Apogee Astro Drive 266X
In light of consumers' needs for high speed data transfer, renowned memory manufacturer Walton Chaintech is launching its latest Astro Drive 266X, which delivers an incredible reading speed of 40.9 MB/s and a maximum writing speed of 25.2 MB/s. The specifications of Astro Drive 266X far exceed the performance of all existing USB2.0 flash drives currently available in the market. Featuring innovative technologies to lower the costs of production, Walton Chaintech has successfully enhanced the economic benefit for the product by a large margin. The Astro Drive 266X provide a variety of memory capacities: From the mainstream specification of 16GB to the ultra-large 64GB to cater to the needs of different user demographics while offering exceptional C/P value for the product.
With the Astro Drive 266X, consumers will notice significantly reduced waiting time for data transfer between PCs and the USB disk, especially for large audio/video/multimedia files, demonstrating the product's blazing fast performance.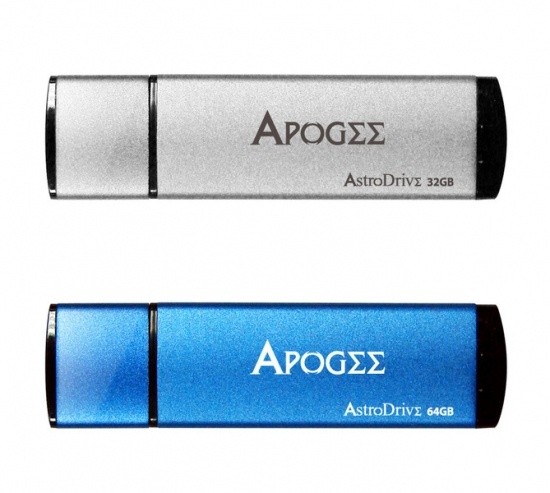 The Apogee Astro Drive 266X features the latest quad-channel MLC technology. Coupled with the Turbo speed accelerator, Walton Chaintech has successfully boosted the product's reading and writing speed to the theoretical limits for USB 2.0 flash drives while dramatically lowering the costs of production. In the past, most conventional high speed USB drives adopted the SLC chipset to increase reading and writing speed, but the exorbitant prices have made it difficult for consumers' general acceptance. The Astro Drive is manufactured by using the latest technologies and Walton Chaintech has used the more affordable MLC chipsets to achieve data transfer speeds that surpass SLC chipsets at approximately half the costs. The company has dramatically improved the product's C/P value to deliver significantly accelerated data transfer speed while safeguarding consumers' wallets. Coupled with Apogee's exclusive calibration technologies, the prices of high speed USB drives will no longer be too far to reach. Now, users can purchase high-speed, high-capacity USB drives at the price of high-capacity USB drives.
The Apogee Astro Drive 266X is equipped with multi-channel parallel technology to accelerate data transfer processing. Not only that, it also features sophisticated wear-leveling, inserting and dynamic distribution technology to reduce chipset wearing, effectively lengthening the product's lifecycle. Constructed with aluminum injected material, the product's minimalistic exterior is shock resistant and capable of safeguarding users' data. The Apogee Astro Drive is undoubtedly your best choice for a USB flash drive.
All of Walton Chaintech's products go through strict in-house QC testing, to ensure that our products have superior reliability and performance.
Last updated: Apr 7, 2020 at 12:01 pm CDT