Kingston Digital Launches New Ultra-Secure USB Flash Drive
Kingston Digital, Inc., the Flash memory affiliate of Kingston Technology Company, Inc., the independent world leader in memory products, today announced the release of the DataTraveler 5000 USB Flash drive. The DataTraveler 5000 is FIPS 140-2 Level 2 certified with Level 3 pending, and features 256-bit AES hardware-based encryption. It uses XTS cipher mode and also uses elliptic curve cryptography (ECC) algorithms to meet Suite B standards approved by the U.S. government.
"The DataTraveler 5000 delivers unsurpassed levels of security and encryption to government and enterprise customers," said Mark Akoubian, business manager, Secure USB Products, Kingston. "This portable data solution represents state-of-the-art data protection while providing end users with the simplicity of plug and play."
The DataTraveler 5000 utilizes patented Secured by SPYRUS technology which supports hardware-based 256-bit XTS-AES and Suite B cryptography, including ECC. Suite B algorithms were specifically selected and approved by the U.S. government and the Department of Defense for use in multinational data sharing environments including both classified and unclassified applications. XTS-AES mode is a cipher mode for encryption that is much stronger than CBC, ECB and other modes. SPYRUS, Inc., is the leader in the development of advanced hardware-based encryption, authentication and digital content security products.
FIPS 140-2 certification requires a validation process that meets federal requirements set by the National Institute of Standards and Technology (NIST). This is critical because many governmental agencies in the United States mandate that sensitive "data at rest" (i.e., all information not in the network) must be encrypted with the FIPS 140-2 standard. Level 2 means the DataTraveler 5000 has a tamper-evident construction which acts to notify any users if their drive has been tampered with. It also has a power-on self test that verifies the encryption mechanism is running properly each time the drive is plugged into a USB port. The drive is expected to receive a FIPS 140-2 Level 3 certificate soon.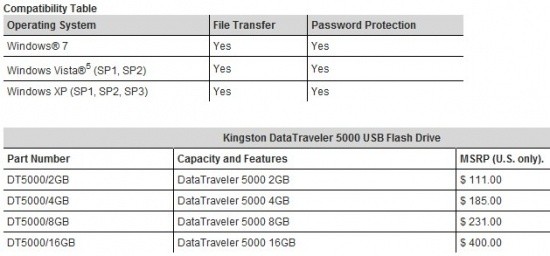 The DataTraveler 5000 is available in 2-, 4-, 8- and 16GB capacities. It will also be available with an onboard Malware scanning application via Kingston's extensive customization program. For its U.S. government customers, Kingston offers a variety of Trade Agreement Act-compliant (TAA) products and has a dedicated federal sales team in place.
Last updated: Apr 7, 2020 at 12:01 pm CDT